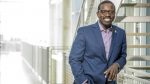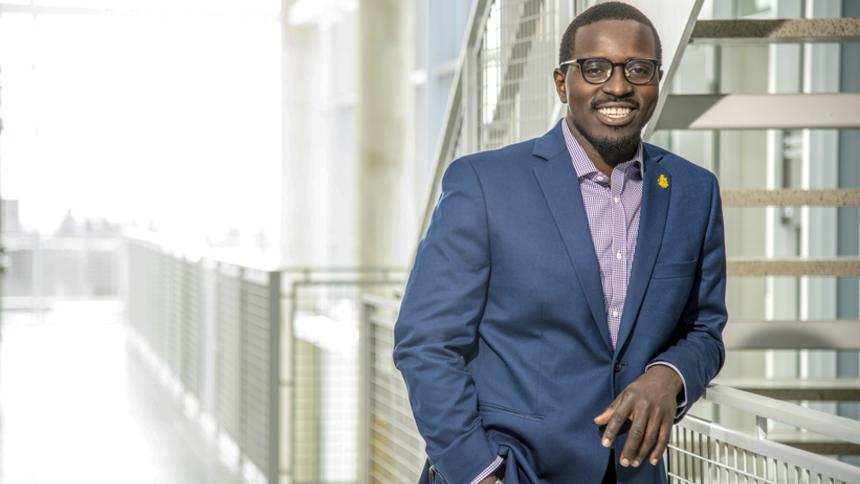 Newly elected regent Mike Kenyanya has a lot to look forward to. Upon completion of his bachelor's degree, Kenyanya has been awarded one of Minnesota's highest seats in public education. The youngest of five, Kenyanya moved to the United States at the age of five with his family of seven.
"We were hosted and moved around a few times" said Kenyanya as he recalls his family's relocation to the U.S. before settling in the Minneapolis suburb of Maple Grove for the past fifteen years. After establishing themselves in the United States the Kenyanya's have hosted a number of people in their home who are transitioning from Kenya to the United States.
Kenyanya's earliest memories revolve around adjusting to the climatic differences from the continually warm country of Kenya where he was born, to one of the coldest states in the nation. While adjusting to snow and grasping a new language, Kenyanya grew up between two worlds, speaking and socializing in English during school hours before retreating to his home where Swahili and Ekegusii are the primary languages.
"[I have] two cultures and two value sets and try to choose the best from" said Kenyanya to describe the ways in which his background impacts his life. His Kenyan-American upbringing has shaped his social and community oriented views.
After graduating high school Kenyanya was enrolled as a freshman in the University of Minnesota Duluth campus (UMD). It was there that he began his involvement in student government and became an advocate for positive change in his campus. After playing a role in the campus government, Kenyanya campaigned to be student body president of UMD in his junior year. A seat he won and was re-elected for his last year of undergrad.
Kenyanya began his process to become a regent after some positive encouragement from mentors and supporters in October of last year. He made the decision to file the application for the seat in November and proceeded to campaign for his candidacy. "It's a tough process" said Kenyanya describing his journey to the board of regents.
The six month process included interviews in front of a twenty-four member panel with the Regent Candidate Advisory Council (RCAC) as well as countless meetings with senators and representatives from across the state. As a resident of Duluth at the time, Kenyanya commuted between the state capital in Saint Paul and the campus where he was completing his bachelor of science in the Management of Information Systems (MIS) and maintaining his final duties as student body president.
The 12-member Board of Regents is the governing body of the University of Minnesota which has more than 60,000 students. A joint convention of the Minnesota legislature elects one Regent from each of Minnesota's eight congressional districts and four from the state at large. One of the four at-large Regents must be a University student at the time of election. Regents do not earn any pay.
In February 2018, Tripp Umbach, a national research firm based in Pittsburgh, Penn., announced that the University of Minnesota, the largest university system in the state, contributes more than $8.6 billion a year in economic activity to the state of Minnesota—supporting more than 77,000 jobs across the state and generating more than $470 million in state taxes.
Minnesota Legislature
At last, on Thursday May 9 Kenyanya was elected unanimously during a Joint Convention of the Minnesota House and Senate presided over by the Speaker of the House, Melissa Hortman. He is one of four newly elected regents that will be fulfilling a six-year term on the board. Regent responsibilities include; electing new university presidents, overseeing financial management of the university, its investments as well as property holdings. The student representative (Kenyanya) is a full member of the board.
"I think when you talk about issues most pressing. Cost and accessibility [are] relevant to every student…There needs to be a conversation on cost, mental health, [and] student wellness." Said Kenyanya as he describes his goals as a newly elected regent.  As student body president Kenyanya was able to push forward a resolution that increased the number of mental health counselors in the UMD campus and wants all University campuses to give the same attention to mental health. Another goal he hopes to achieve is increasing four-year graduation rates across all campuses. Lastly, Kenyanya wants to make the board of regents more accessible beyond the yearly open budget meeting in June. He wants the students that the regents serve to "feel they can access the board and be heard".
Moving forward as a newly elected regent member for the next six years, Kenyanya states with full confidence, "I'm committed to Minnesota and the U."
Cynthia is a graduate of the University of Minnesota School of Journalism. She has interned at Mshale and Voice of America and previously worked at the Minnesota Daily. She recently returned from Seoul, South Korea where she was an English educator.





(No Ratings Yet)


Loading...