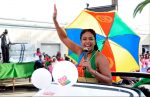 American actress Tiffany Haddish, who has always taken pride in her Eritrean roots, this week officially gained citizenship of her father's birthplace. Her father, Tsihaye Reda Haddish, moved to the United States as a refugee before Haddish was born. She went there last year to bury him and is back this week for the country's 28th Independence anniversary.
During last year's Oscars ceremony, she graced the red carpet in a stunning zuria gown, a traditional dress worn by women in Eritrea and Ethiopia. Her dress was topped with a kaba, a cape-like ornament usually worn by brides and grooms.
An Eritrean diplomat in the United States confirmed to CNN Tiffany Haddish's citizenship, saying it happened at "a very touching moment of our independence week."
Photographs circulating on social media showed Haddish draped in the Eritrean flag while filling out official forms.
"My father is from Eritrea and he passed away last year—and he said one say I would end up here," Haddish said at last year's Oscars.
"He said that if I ever end up at the Oscars to honor my people, so I'm honoring my fellow Eritreans."





(1 votes, average: 2.00 out of 5)


Loading...