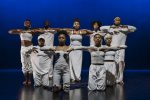 Choreographers Jonathan (AJ) van Arneman and Peace Madimutsa use the stories from hundreds of years ago, presenting the re-imagined story of a whitewashed history, where Black bodies share in a common knowledge of self to find and create peace even in the worst of circumstances.
"Our mothers were pregnant African women thrown overboard while crossing the Atlantic on slave ships. We were born breathing water as we did in the womb."—"The Deep" (2017)
The result, Atlantis 13, will be performed at The Frey Theater, St. Catherine University, St. Paul, on July 20th. Mr. van Arneman collaborated with Zimbabwean Peace Madimutsa in previous work while students at Macalester College in St. Paul, Minnesota.
Madimutsa described Atlantis 13 timeless and spaceless, living beyond time. He explained that the stories told in the forty-minute production are "repetitions and magnifications on stories that have happened before. We layered a lot of history with confrontation on a personal level." He assured Mshale that at some point, the audience would be questioned directly but declined to give away too much.
Van Arneman emphasized the input of each performer. "All of our dancers have weaved their fabric and essence into the show," he said, "their vulnerability, authenticity, and truth. The audience is left with no option but to think about their own journey and truth."
Atlantis 13 is part of a larger production, Momentum, which is an annual grant given to four dance groups. This year, all four dance groups will be featured in Momentum: New Dance Works Festival 2019 spanning two weekends in July. The performance festival will be held at St. Catherine University in Saint Paul.
Momentum provides a platform for commissioning and presenting original contemporary dance of all genres. The four participating artists of the festival, including AJ Arneman and Peace Madimutsa took part in a 14-month program that combined professional development and creative process exchanges to strengthen their artistic and professional futures.
Utilizing both the grant and services of Momentum freed the pair from non-creative, but essential aspects of dance production. "Momentum provided us enough leeway to move the vision along," said van Arneman, dancer from Soualiga [Saint Martin], Dutch Caribbean. "We didn't worry about space, marketing, photo shoots, and paying everyone."
In an effort to provide accessibility and context, the team also hired videographer, Jonathan Goh. Goh produced a short film that will be available in various social media forums including Facebook and Instagram.
One more workshop this Saturday, June 29th at Cowles Center is open to the public. "It's a triple workshop with 45-minute sessions beginning at 3:00," said van Arneman, "just show up at Cowles Center." 528 Hennepin Ave, Minneapolis Madimutsa stressed that not seeing the film or attending a workshop will not detract from the dance. "If you haven't seen this [film] you won't enjoy the show [less], but the activities add to the depth," he said.
The festival is presented by The O'Shaughnessy, in partnership with the Walker Art Center, Cowles Center for Dance & The Performing Arts and Movement Research (New York City).
Momentum is made possible by support from the Jerome Foundation.
MOMENTUM: NEW DANCE WORKS FESTIVAL 2019
July 11-13 and July 18-20 at 8pm
Frey Theater at St. Catherine University
2004 Randolph Avenue, St. Paul
Tickets: $20 in advance; $25 at the door
Box Office: theoshaughnessy.com or 651-690-6700
Susan is based in Minneapolis and reports on general assignments for Mshale with a focus on entertainment. In addition to reporting, she is also a writer, poet, teacher and coach.





(1 votes, average: 5.00 out of 5)


Loading...