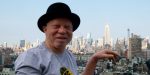 Malian singer, composer, poet, guitarist, bandleader and activist Salif Keita, "The Golden Voice of Africa," will be performing at the BRIC Celebrate Brooklyn! Festival at the Prospect Park Bandshell on Sat., July 13 at 7:30 PM. This will be his only U.S. appearance on a world tour that promotes his latest album, Un Autre Blanc ("Another White"), and celebrates his 50th year as a professional musician and his 70th birthday.
Afropop Worldwide, the Peabody Award-winning public radio show hosted by Georges Collinet and heard around the U.S. and locally on WNYE 91.5 FM (Mon.-Sat. at 11 pm and 5 am), has been honored to present Salif's music and story since the program debuted on NPR in 1988.
On July 13 at the free, open air BRIC Celebrate Brooklyn! Festival, Afropop Worldwide will induct Salif Keita into the Afropop Hall of Fame. Previous inductees include Youssou N'Dour, Baaba Maal, King Sunny Ade, Oumou Sangare, Angelique Kidjo, Thomas Mapfumo, Oliver Mtukudzi, Habib Koite, the Mahotella Queens, Dorothy Masuka and Harry Belafonte.
"We are so happy to give the Afropop Hall of Fame award to Salif. It's long overdue," said Afropop Worldwide Executive Producer Sean Barlow. "Our award goes to African artists of exceptional artistic talent who have made a major contribution to connecting American audiences to Africa. Salif has that sublime, soaring, one-of-a-kind voice that is instantly recognizable, and ultimately transcendent."
Speaking from his home in Bamako, Mali, Salif Keita said "I love Afropop! I'll be there at Celebrate Brooklyn on July 13th. I'll be taking my place at the Afropop Hall of Fame. Don't miss it!"





(1 votes, average: 1.00 out of 5)


Loading...