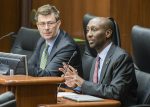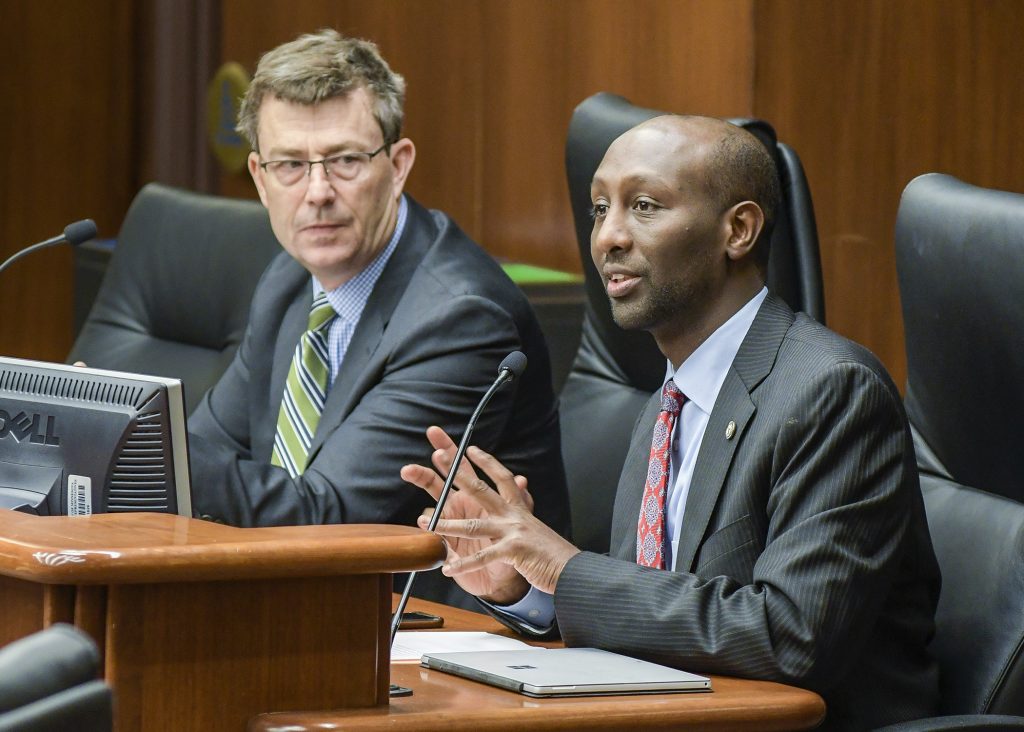 Mohamud Noor, a Democrat, represents District 60B in the Minnesota House of Representatives. As of the 91st Minnesota Legislature, he is the only black elected male in the Minnesota House of Representatives.

Washington could take a page out of Minnesota's handbook. While both have divided governments and passionate lawmakers on both sides of the aisle, Minnesota's leaders were able to come together to forge significant bipartisan compromises this year. The DFL-controlled House didn't get everything we fought for, but we were able to make strong investments in education and stop Senate Republican cuts to health care that would have devastated vulnerable and disadvantaged Minnesotans.
With voices and support from our community, I fought for equitable job growth, accessibility to high-quality education from pre-kindergarten through college and job training, and funding and protections for renters and homeowners.
As vice chair of the Jobs and Economic Development committee, I worked hard to ensure the benefits of economic growth are felt not just by those at the top, but by everyday Minnesotans working to put food on the table for their families. We have work left to do next year, but we were able to establish some of the toughest wage theft laws in the nation this session. Minnesota's employees deserve an hour's pay for an hour's work, and we're going to hold accountable those who deny workers their hard-earned pay.
We passed my bill which will support Launch Minnesota in their effort to jumpstart emerging businesses in Minnesota. To ensure economic development benefits our community specifically, we also passed my bill granting $300 thousand to the public-private Cedar Riverside Partnership program to build sustainable growth and development in Cedar Riverside.
We promoted jobs in the clean energy sector, and passed a bill to increase workforce diversity in energy for women, veterans, minorities, and small businesses so that the economic benefits of this emerging sector will be felt by all communities.
Children begin learning the tools and skills for success at an early age. I've seen how early-learning opportunities have helped prepare my own children for life outside the classroom, and I believe Minnesotans want world-class schools and education for all children in our community. It shouldn't matter where you live or how much money you have, we should set all our children up for success. While the House DFL fought for historic investments in all of our schools, the Republican-led Senate said no. The compromise we came up with is a good start to building a state that will work better for all of our families, and all of our children.
From pre-kindergarten to university or job training, a good education is a springboard for students of all backgrounds, as it was for me, into successful, meaningful careers. The University of Minnesota is one of our state's greatest assets, yet for too many it remains out of reach – Minnesota college students graduate with an average of $31,000 in student debt.
I worked to break down the barriers to higher education and job training and keep students from amassing debt from tuition, food, textbooks and housing. The House DFL advocated for a two-year tuition freeze at all of the state's colleges and universities, to improve student support and safety on campus, and to reduce food insecurity. We didn't get everything we fought for, but we made bipartisan investments in student aid and programs like College Possible that enroll low-income students. We made strides toward hunger-free campuses, aided summer enrichment opportunities, and expanded access to mental health care for students.
A comprehensive approach to improving the lives of Minnesotans needs to have a strong foundation, which begins with a safe and affordable home. Without it, seeking an education, maintaining one's health, and finding a job are nearly insurmountable challenges. This year, we invested a historic $75 million in infrastructure and affordable housing. I advocated for greater transparency and consumer protections in lease agreements, and to level the power and information gaps between tenants and landlords. All Minnesotans deserve a roof over their heads.
Though session is over, our work isn't done. I will continue to fight for Minnesotans and the things we value. I will continue to work with our Senate Republican colleagues to advocate for safe, vibrant, and robust communities and strong investments in education, health care, housing and economic development.

Representative Mohamud Noor, a Democrat, represents District 60B in the Minnesota House of Representatives where he was first elected in November 2018 for the 91st Minnesota Legislature which is comprised of the Senate and House of Representatives. As of the end of the 91st Minnesota legislature which ended its first regular session on May 20, 2019, Rep. Mohamud Noor is the only black male serving in the Minnesota House of Representatives.





(1 votes, average: 5.00 out of 5)


Loading...