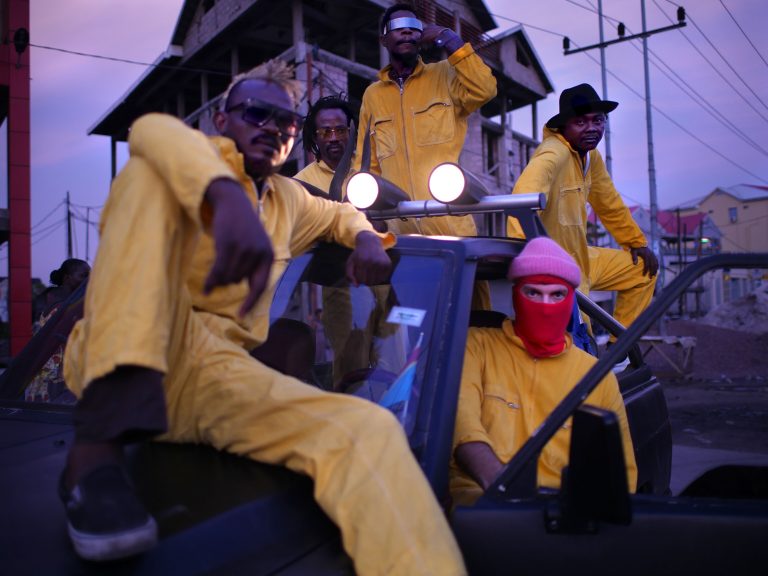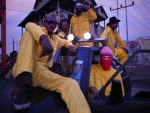 From the Democratic Republic of the Congo, roughly the size of Alaska, hales a band with a sound to match the size of their country. KOKOKO!, formed only three years ago, will heat up the stage at The Cedar Cultural Center September 20th.
Serendipity pulled them from various locations to Kinshasa in 2016. Electronic artist Débruit was in town working on a film soundtrack and began collaborating with Makara Bianko, a singer who performs with his dancers to electronic loops, and separately with a number of ingenious musical instrument creators and artists. They threw a spontaneous block party, and though many of them hadn't known one other previously, the energy clicked among Makara Bianko, Débruit, Boms Bomolo, Dido Oweke, Love Lokombe and Bovic Mwepu (who has since passed away), and together they became the founding members of the group KOKOKO!, which is part of a wider collective of multidisciplinary artists.
Historian Dan Snow writes, the Democratic Republic of Congo is potentially one of the richest countries on earth, but colonialism, slavery and corruption have turned it into one of the poorest.
The poverty of the Democratic Republic of Congo finds a voice in the band, KOKOKO! The kind of people who can afford imported guitars and drum kits in Kinshasa live very different lives to the people who make instruments out of sardine tins, water bottles and engine parts. Consequently, KOKOKO! chose to build their own instruments as they've built their own unique, inimitable sound.
Friday, September 20, 2019
Doors 7 pm/ Show 8 PM
This is a standing show with an open floor.
The Cedar Cultural Center
416 Cedar Avenue South
Minneapolis Minnesota
Tickets: Cedar Site.
Susan is based in Minneapolis and reports on general assignments for Mshale with a focus on entertainment. In addition to reporting, she is also a writer, poet, teacher and coach.





(No Ratings Yet)


Loading...