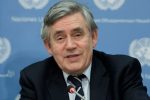 The ground-breaking, United Nations-backed International Finance Facility for Education is vital to ensure that half of the world's children don't miss out on the basic schooling needed to meet the 2030 Sustainable Development Goals (SDGs).
That's the view of the UN Special Envoy for Global Education, Gordon Brown, who said yesterday in an interview with UN News that "education has been neglected for too long" and the international community needs to "act now" through a new Financing Compact between developed and developing countries.
Sustainable Development Goal 4 commits countries to provide "inclusive and quality education for all" and yet if current trends continue, more than 800 million young people will be leaving school in 2030, without even a basic education, said Mr. Brown.
He said the new Finance Facility would unlock nearly $10 billion annually for new education investments, help meet the SDG 2030 deadline, and deliver the right of every girl to an education "free from exploitation, child marriage, child labour and child trafficking."
The envoy, who is former Chancellor of the Exchequer and Prime Minister of the United Kingdom, said that currently, only $8 per child is spent on educational aid to the poorest countries, "barely enough in aid to pay for a text book."
"A new approach is essential […] Of all the investments we make, education is the longest term need with children requiring 12 years of consistent, sustained and uninterrupted funding," he added.
While the Finance Facility – inspired by the highly successful Heavily-Indebted Poor Countries initiative and Global Funds for health and immunization – will be presented at the upcoming World Bank annual meetings, Mr. Brown said, adding that a new Inquiry on Protecting Children in Conflict –supported by Save the Children UK and Theirworld – would also be launched this week.
It would build on the work of the Special Representative of the UN Secretary-General for Children and Armed Conflict and complement the mission of long-term investment in education, as so many of the countries deprived of functioning classrooms were also conflict zones, he said.
With "moral lines" having been crossed so clearly, as with last week's purported chemical weapons attack in Idlib, Syria – and the deliberate bombing of schools there – more robust legal protection was needed, said the envoy.
"We think that we need to look at international law, see whether perhaps even an International Criminal Court for children's issues should be set up; see whether we can strengthen domestic laws."
A leading London-based lawyer, Shaheed Fatima, will be conducting a legal review to "look at whether we can actually make recommendations that would strengthen the protection of children who are in these conflict zones" said Mr. Brown, who will chair the Inquiry.
Discussing his new initiatives with journalists at UN Headquarters on Wednesday, the Special Envoy said that "only when international law is robust enough […] to secure accountability for children's rights will we have done all in our power to ensure that no child of God will ever again suffer the horrors of Syria."
"When we ask ourselves what breaks the weak, it is not just the Mediterranean wave that submerges the life vest, nor the food convoy that does not make it to the besieged Syrian town. It is the absence of hope – the soul-crushing certainty that there is nothing ahead to plan or prepare for, not even a place in school," he said.






(No Ratings Yet)


Loading...