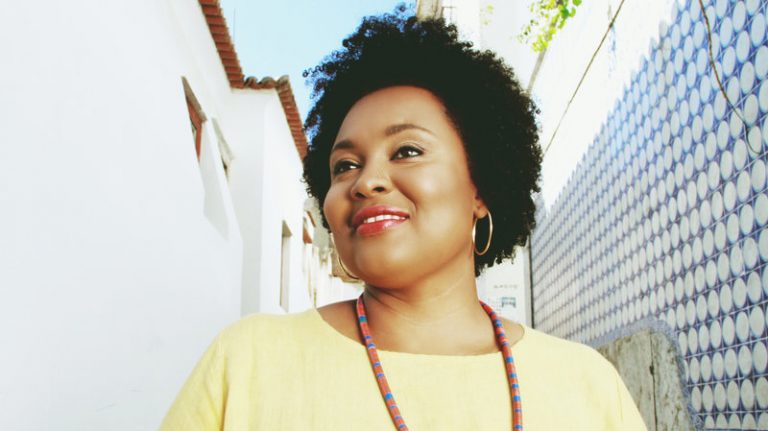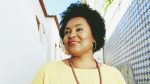 Situated in Atlantic waters 350 miles from West Africa, over a half-million people live on the ten tiny islands of the Cabo Verde archipelago. Lush, soothing, monotonic music pours out identifying one of the island nation's signature sounds, morna, a balm and a balance to the tumultuous history of colonialism of this country.
September 12th, Lucibela performs at The Dakota, treating us to her mellifluous voice and engaging rhythms.  Speaking to Mshale via translator, Lucibela said, "For me our music portrays what we are. It identifies our people, our traditions, customs and values. It is our identity."
At 33 years, Lucibela has captured the essence of her homeland. Performing often barefooted as did one of her inspirations, nationally beloved diva Cesaria Evora, Lucibela also introduces Brazilian bossa nova, samba, and popular Brazilian music to her musical repertoire. "I've always heard a little of everything, but Brazilian music has had a big influence on my way of singing," she said.
In the tradition of most Cabo Verdean divas, Lucibela does not write her own songs, but rather draws on classic favorites by earlier generation composers. Lucibela said, "I don't have my own songs yet and so I make a selection of songs from various Cape Verdean composers."
She draws from Cabo Verde songwriters such as Nhelas Spencer, Betú, and Dany Mariano to those who are no longer living  such as Manuel de Novas and Eugênio Tavares and the youngest songwriters like Elida Almeida, Jorge Tavares. Lucibela added, "I also like old folk songs."
The intimate setting of The Dakota in downtown Minneapolis affords Lucibela the ideal venue. "I am a person who looks a lot at my audience, I like to see the expressions on their faces," she said.  "I like to feel and transmit good energy, it is important to feel the audience."
Tickets available The Dakota
Lucibela
Cape Verdean Voice-of-gold
Thursday September 12 
7 pm show
Susan is based in Minneapolis and reports on general assignments for Mshale with a focus on entertainment. In addition to reporting, she is also a writer, poet, teacher and coach.





(No Ratings Yet)


Loading...