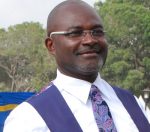 CANCELLED: The Kennedy Agyapong Town Hall scheduled for March 8, 2020 has been cancelled according to officials of the Minnesota NPP Chapter. Hon. Akyapong cited "uncertainties that currently surrounds the (coronavirus) outbreaks" It will be rescheduled at a later date.
NOT CANCELLED: Ghana's 63rd Independence Day Dinner is still on. See at the bottom for details.
Ghanaian parliamentary member Kennedy Agyapong of the ruling New Patriotic Party is due to visit the state of Minnesota for a Town Hall meeting on March 8 in St. Louis Park. The event will be hosted by the Minnesota chapter of the New Patriotic Party (NPP).
The visit comes at a time when Ghana is set to hold general elections in December of this year. Agyapong has been active in the Ghanaian parliament for the past two decades and is gunning for another four-year term in December.
The Minnesota Chapter of NPP began ten years ago in an attempt to coordinate and engage NPP's party members who live abroad. The chapter expects an attendance of about 200 which will include Ghanaian citizens or friends of Ghana.
Minnesota is home to a sizable number of Ghanaians, with estimates placing the number to over 2,000 individuals. The NPP chapter of Minnesota has around 100 registered members and many are expected to attend on March 8.
In recent years the Ghanaian government has passed legislation that allows citizens in the diaspora to vote. Under the Representative of the People's Amendment law Ghanaian's abroad could be allowed to cast ballots for overseas elections as early as this year.
"From this visit we want to energize the membership… we want to be able to ask questions, in areas that we feel we need answers," Collins Oppong said. Oppong serves as the party's communication director in Minnesota. He has been a member of NPP for 18 years and has been involved in the Minnesota chapter since moving to the United States six years ago.
Attendees of the event are expected to engage with the lawmaker on a wide range of issues and policies in Ghana and the diaspora. It will also be an opportunity for Agyapong to interact with members of the Ghanaian community abroad.
"Ghanaians are part of the overwhelming number of Africans that support the economy through remittances" Oppong said as he explained why it is important for diaspora members to be engaged in current political affairs.
Parliament member Agyapong is also scheduled to be a special guest for Ghana's 63rd Independence Dinner Dance celebration that will be hosted on Saturday March 7 by the Ghana Council of Minnesota at the Moundsview Community Center.
Hon. Kennedy Agyapong Town Hall
When: Sunday, March 8, 2020 4PM-10PM
Where: 4330 Cedar Lake Rd., St. Louis Park, MN 55416
Event Link: Facebook.
Ghana's 63rd Independence Day Dinner
Host: Ghana Council of Minnesota
When: Saturday, March 7, 2020 6PM-Midnight
Cover: $30 (At the Door)
Where: Moundsview Community Center 5394 Edgewood Dr., Moundsview, MN 55112
Details: Facebook.
Cynthia is a graduate of the University of Minnesota School of Journalism. She has interned at Mshale and Voice of America and previously worked at the Minnesota Daily. She recently returned from Seoul, South Korea where she was an English educator.





(No Ratings Yet)


Loading...