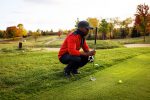 Looking for a fun way to unwind outdoors this summer? Look no further; the Beyond Season Golf Tournament, hosted by Collins Oppong and presented by Dependable Home Health Care, will be returning August 26th at Crystal Lake Golf Course in Lakeville, MN.
"This unique golf event is specifically designed to unite and celebrate a diverse community of golfers, with a primary focus on Black and immigrant individuals and their partners," Oppong said.
Oppong, a Ghanaian entrepreneur and media development consultant, hosted the inaugural tournament in tandem with his birthday celebration last summer in the hopes of "getting more Africans playing golf." Until 1961, the Professional Golfers' Association (PGA) held a "whites only" policy. Although there are now more options to practice golf more cheaply, there are still private clubs that charge initiation fees upward of $50,000, which some see as a continuation of the sport's segregationist history. Oppong hopes that by introducing the sport to his community, he can bridge the "golfing gap."
"I am eager to establish connections with the community and various organizations to ensure greater representation of Black golfers," Oppong said.
In addition to the 18-hole competition, Oppong said that this year's tournament will feature a beginner's golf clinic, putting contests, and various opportunities to win cash prizes. The funds raised at this year's event will go toward Circle of Life, an organization that provides women and girls in Ghana with feminine hygiene products.
"This support enables [Ghanaian women and girls] to continue their education and lead fulfilling lives," Oppong said.
The tournament will conclude with a prize ceremony featuring music, dinner, cocktails, and entertainment. More information on the event can be found here.
Panashe is a general assignments reporter.





(2 votes, average: 5.00 out of 5)


Loading...