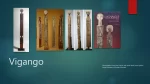 SPRINGFIELD, Ill. (AP) — The Illinois State Museum has returned nearly 40 sacred artifacts to Kenya so they can go back to their rightful owners.
Museum officials said in a statement Wednesday that they have completed transferring 37 wooden statues known as vigango to the National Museums of Kenya so they can be returned to Mijikenda communities. The statues are considered sacred and are believed to carry the spirits of deceased male Mijikenda elders.
The Illinois State Museum said the statues were removed from Mijikenda villages and sacred sites in the 1980s, acquired by art collectors and later transferred to the museum as part of its African collection. Museum staff discovered in 2006 that one of the statues had been stolen and returned it to its owner.
The Illinois State Museum's curator of anthropology, Brooke Morgan, plans to visit Kenya this month and meet with Mijikenda elders to learn more about efforts to protect vigango statues and restore them to their communities.





(No Ratings Yet)


Loading...