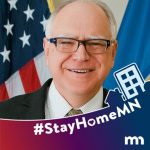 Editor's note: Since the publishing of this story on March 27, there is an update from the African Development Center of Minnesota on how to apply for the emergency loans that you can read at this link.
Minnesota Governor Tim Walz on Monday through executive order 201-5 announced the creation of a $30 million fund to lend money to small businesses that have been hurt by the COVID-19 pandemic, specifically businesses ordered to temporarily close by the governor (e.g. restaurants) following the pandemic through Executive Orders 20-04 and 20-08.
Under the COVID-19 Small Business Emergency Loan Program, the Minnesota Department of Employment and Economic Development (DEED) will use its lender network that includes the African Development Center of Minnesota (ADC) and the African Economic Development Solutions (AEDS) to make loans of between $2,500 and $35,000 for qualifying small businesses.
"Over the last week, we've heard from many of Minnesota's small businesses who are facing significant hardships because of the COVID-19 crisis," said Governor Walz. "Small businesses are the backbone of our communities, and now more than ever, we're looking to creative solutions like DEED's emergency loan program to help them weather these extraordinarily difficult times."
To be eligible for the loans, businesses must be able to demonstrate that they were "directly and adversely affected by the conditions that precipitated the emergency declaration as noted in Executive Orders 20-04 and 20-08."
Additionally, businesses applying for the loans must be current on their federal, state and local taxes.
The loans are interest-free for all businesses and maybe partially forgiven. No payments are required in the first six months, and after the six months of no payments, will be paid monthly over five years.
To see if your business qualifies to apply, go to this DEED link and click on Eligibility.
African immigrant owned businesses can contact the following agencies for loan inquiries and assistance:
African Development Center @ 612-333-4772 or habdi@adcminnesota.org.
African Economic Development Solutions @ 651-646-9411 or info@aeds-mn.org.

Born and raised in Kenya's coastal city of Mombasa, Tom is the Founder, Editor-in-Chief and Publisher of Mshale which has been reporting on the news and culture of African immigrants in the United States since 1995. He has a BA in Business from Metro State University and a Public Leadership Credential from Harvard's Kennedy School of Government. He was the original host of Talking Drum, the signature current affairs show on the African Broadcasting Network (ABN-America), which was available nationwide in the United States via the Dish Network satellite service. On the show, he interviewed Nobel laureates such as 2004 Nobel Peace prize winner, Professor Wangari Maathai, the first woman from Africa to win the peace prize and heads of states. Tom has served and chaired various boards including Global Minnesota (formerly Minnesota International Center), the sixth largest World Affairs Council in the United States. He has previously served as the first Black President of the Board of Directors at Books for Africa. He also serves on the boards of New Vision Foundation and the Minnesota Multicultural Media Consortium. He has previously served two terms on the board of the United Nations Association. An avid runner, he retired from running full marathons after turning 50 and now only focuses on training for half marathons.





(No Ratings Yet)


Loading...