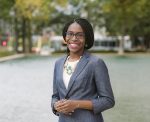 Attorney Esther Agbaje is on a mission to create positive change in her community. The 34-year-old Minnesota native has announced that she's running for the Minnesota House of Representatives seat in District 59B, which includes most of downtown Minneapolis and North Minneapolis.
Born in Saint Paul to Nigerian immigrants, Agbaje was raised in the Midway neighborhood before moving around the state as her father, a minister, practiced his vocation. She moved to the east coast to pursue her higher education before returning to Minnesota.
Agbaje is leading a grassroots campaign that has grown organically from a small team to over 65 volunteers across the district. She's bringing five years of experience as a Foreign Affairs Officer with the State Department, a master's in Public Administration from the University of Pennsylvania and a Harvard law degree to her campaign.
Agbaje and her supporters were able to canvas on over 3,500 doors leading to the caucus in February. Recent COVID-19 restrictions have forced her and the team to rely on reaching their voter demographic digitally.
At the forefront of Agbaje's campaign is the issue of affordable housing. "Housing should be guaranteed for everyone," she said. It was during her tenure as a student attorney at Harvard that she gained first-hand experience in fighting for equity in housing. In her pro bono work she successfully helped distraught tenants fight their eviction notices.
Minneapolis is facing an affordable housing crisis with statistics showing that the city has lost 15,000 affordable housing units in the last two decades while at a similar rate building high cost apartments.
Among other issues that her campaign is pledging to address are also public transit accessibility, affordable healthcare, business development and bridging the education gap.
"I really want to make sure that transit is a reliable option for people," Agbaje said. Referring to expansion of the transit system to better serve the Twin Cities community and surrounding suburbs. A reliable transit is also part of Agbaje's greater plan for environmental justice, a cause she's aligned herself with for many years.
Minnesota has one of the highest educational achievement gaps in the nation. Agbaje intends to close this gap by ensuring students have the best learning environments and that educators are compensated adequately. Her plan also includes increasing the number of teachers of color so educators match the demographics they're serving.
"The main challenge that students of color face is that there's a lot of underestimation of your abilities" Agbaje said. Recalling her own struggles as a student of color where her mother had to continuously advocate for her and her siblings to be placed in classes reserved for gifted students. Increasing the number of minority educators and administrators would also act as advocates for the student body they serve.
For district 59B's future Agbaje envisions an urban metropolis with booming economic development, lively eco-friendly neighborhoods, reliable transportation and a thriving education system that uplifts all its students. "A district that's really focused on the health and wellness of the community," she said.
Agbaje is challenging Representative Raymond Dehn who's who is seeking reelection for a fifth term after serving eight years on the Minnesota floor. The primary for the Minnesota House of Representatives will take place in August with the winner proceeding to the November election.
As of the time of this writing, Agbaje already has the endorsement of the Minnesota DFL Senior Caucus and Women Winning.
Cynthia is a graduate of the University of Minnesota School of Journalism. She has interned at Mshale and Voice of America and previously worked at the Minnesota Daily. She recently returned from Seoul, South Korea where she was an English educator.





(1 votes, average: 5.00 out of 5)


Loading...