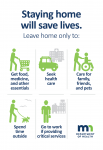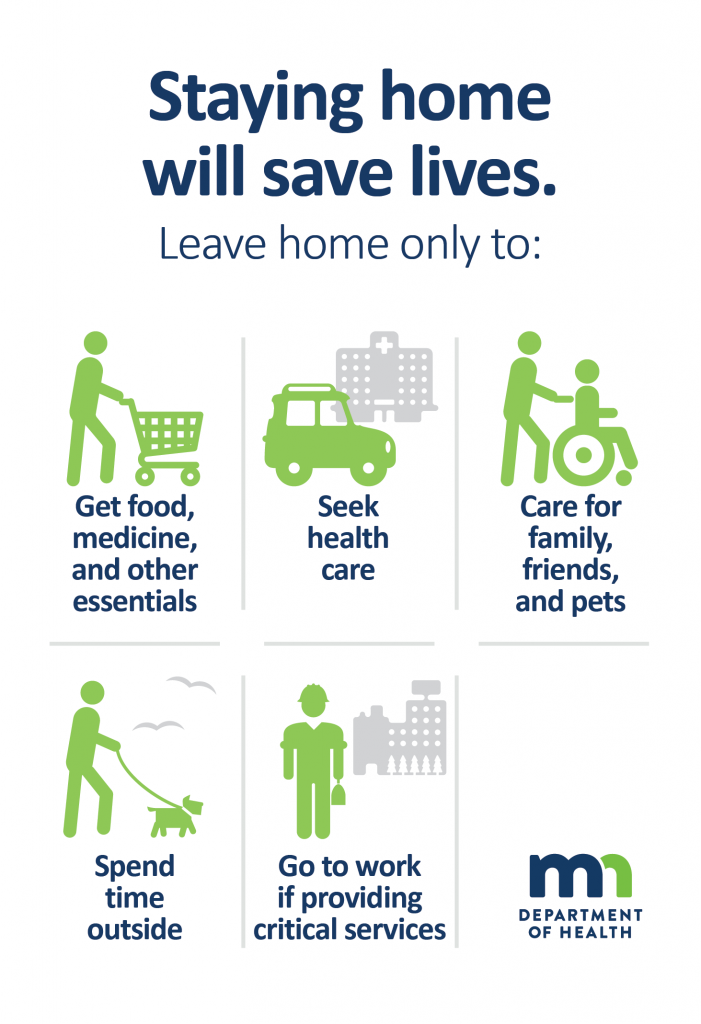 To protect the public's health and slow the rate of transmission of COVID-19, Governor Walz extended the executive order directing Minnesotans to stay at home and limit movements outside of their home beyond essential needs.
This order extension is effective from March 27 at 11:59 p.m. to May 3 at 11:59 p.m. The Governor's order to stay home is forecasted to help slow the spread of COVID-19 and allow the state to make key preparations for the pandemic. These preparations include building hospital capacity, increasing access to life-saving equipment like ventilators, increasing testing, planning for how to care for vulnerable populations, and assessing public health data to determine which community mitigation strategies are most effective.
Essential need activities
Minnesotans may leave their homes only to perform any of the following activities:
Health and safety activities, such as obtaining emergency services or medical supplies.
Outdoor activities, such as walking, hiking, running, biking, hunting, or fishing.
Obtain necessary supplies and services, such as getting groceries, gasoline, or carry-out.
Essential and interstate travel, such as returning to a home from outside this state. To protect our neighbors, Minnesotans are encouraged to stay close to home and are strongly discouraged from engaging in unnecessary travel.
Care of others, such as caring for a family member, friend, or pet in another household.
Displacement, such as moving between emergency shelters if you
are without a home.
Relocation to ensure safety, such as relocating to a different location if your home becomes unsafe due to domestic violence, sanitation, or essential operations reasons.
Tribal activities and lands, such as activities by members within the boundaries of their tribal reservation.
Moving or relocation, such as moving to a new home or place of residence.
Voting, Minnesotans are encouraged to vote and to do so by mail when possible.
Funerals, provided that gathering consists of no more than 10 attendees and the space utilized allows for social distancing.
While doing these things you should practice social distancing (keep 6 feet apart from other people as much as possible).





(No Ratings Yet)


Loading...