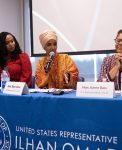 Congresswoman Ilhan Omar has introduced a bill to cancel all rent and mortgage payments nationwide during the COVID-19 pandemic. The Rent and Mortgage Cancellation Act would constitute a full payment forgiveness, with no accumulation of debt for renters or homeowners and no negative impact on their credit rating or rental history, according to Rep. Omar's press statement sent to Mshale.
The legislation will establish a relief fund for landlords and mortgage holders to cover losses from the cancelled payments and create an optional fund to fully finance the purchase of private rental properties by non-profits, public housing authorities, cooperatives, community land trusts, and states or local governments—in order to increase the availability of affordable housing during this downturn.
48% of residents in the Fifth Congressional District that Rep. Omar represents are renters, according to the US Census Bureau. In the district's largest city of Minneapolis, renters constitute 53%.
Rep. Omar's move comes as numbers emerged that COVID-19 is affecting non-whites, especially black Americans, at a disproportionate level in terms of those contracting it and dying.
"The coronavirus crisis is more than just a public health crisis—it's an economic crisis. Minnesotans are losing jobs, getting their hours reduced, and struggling just to put food on the table. We must take major action to protect the health and economic security of the most vulnerable, including the millions of Americans currently at risk of housing instability and homelessness," said Rep. Omar. "Congress has a responsibility to step in to stabilize both local communities and the housing market during this time of uncertainty and crisis. In 2008, we bailed out Wall Street. This time, it's time to bail out the American people who are suffering."
Minneapolis City Council Member Jeremiah Ellison joined in support of Rep. Omar's bill saying "We cannot allow this public health crisis to worsen the housing crisis we are already in. Displacement does not make our communities stronger. Increased homelessness does not make our communities stronger. Right now, we should be focused on protecting the vulnerable from COVID-19, and not risk making more people vulnerable. Because this is not a matter of 'if' people will pay their rent- this is about how we formalize the reality that the rent is already cancelled because people can't pay."
Tara Raghuveer, Homes Guarantee Campaign Director at People's Action and Dianne Enriquez, Co-Director of Community Dignity Campaigns at the Center for Popular Democracy, both offered statements of support for Congresswoman Omar's bill.
The bill is cosponsored by Reps. Alexandria Ocasio-Cortez (D-NY), Rashida Tlaib (D-MI), Pramila Jayapal (D-WA), Mark Pocan (D-WI), Ayanna Pressley (D-MA), Veronica Escobar (D-TX), Jesús"Chuy" García (D-IL), and Grace Meng (D-NY).
Full text of the bill can be found at this link.

Born and raised in Kenya's coastal city of Mombasa, Tom is the Founder, Editor-in-Chief and Publisher of Mshale which has been reporting on the news and culture of African immigrants in the United States since 1995. He has a BA in Business from Metro State University and a Public Leadership Credential from Harvard's Kennedy School of Government. He was the original host of Talking Drum, the signature current affairs show on the African Broadcasting Network (ABN-America), which was available nationwide in the United States via the Dish Network satellite service. On the show, he interviewed Nobel laureates such as 2004 Nobel Peace prize winner, Professor Wangari Maathai, the first woman from Africa to win the peace prize and heads of states. Tom has served and chaired various boards including Global Minnesota (formerly Minnesota International Center), the sixth largest World Affairs Council in the United States. He has previously served as the first Black President of the Board of Directors at Books for Africa. He also serves on the boards of New Vision Foundation and the Minnesota Multicultural Media Consortium. He has previously served two terms on the board of the United Nations Association. An avid runner, he retired from running full marathons after turning 50 and now only focuses on training for half marathons.





(2 votes, average: 3.50 out of 5)


Loading...