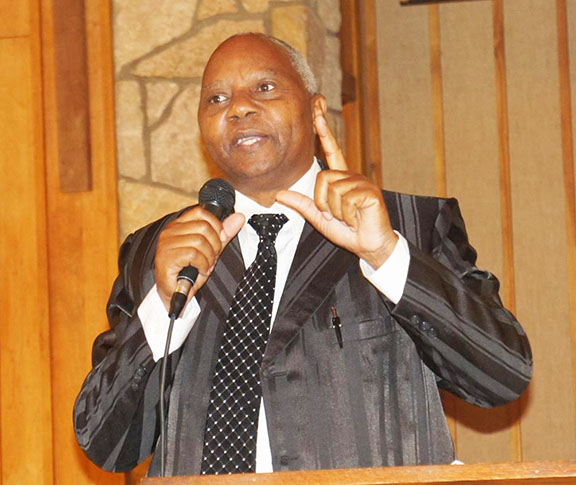 Minnesota's Kenyan community is grieving the loss of an influential community leader, Thomas Nyambane, to coronavirus. Nyambane, affectionately referred to as Dr. Nyambane, was a college educator and was just a few years into his retirement following a career of teaching at Hennepin Technical College. He died yesterday (May 17) aged 69.
His death is the first reported fatality of a Kenyan in Minnesota from the COVID-19 pandemic that as of May 18 had claimed 731 lives in the state.
After moving to the United States in the 80s with his wife Alice, first to Texas and then to Minnesota, they raised three children and worked hard to encourage and model cohesion of the Kenyan community in the state. He obtained his bachelor's degree from the University of North Texas and two masters degrees from the University of St. Thomas in the Twin Cities. His doctorate degree in philosophy was from Bethel University in Saint Paul.
He was a practicing Seventh Day Adventist and was a church elder at The Mountain Experience SDA Church in Moundsview.
Friends and family that spoke to Mshale described the late Nyambane as a mentor and leader that guided many to achieve their potential and American dream.
His eldest son, Cyprian Kambuni, said the sudden loss of his father is a shock to the family and the community he served.
"He had a very generous heart – to everyone and it did not matter who or where you came from and whether you were a kid or a grownup," said Kambuni. The son said his generosity and kindness knew no bounds as he dispensed it in equal measure both locally where he lived and to his place of birth. He was a regular in fundraisers to raise money for Books for Africa through the Minnesota Kenya International Development Association (MKIDA) to send containers of books to Kenya.
Kambuni said his father had been through four back surgeries in the last few years and had an underlying condition of diabetes that made him vulnerable to the coronavirus. His age also put him at risk.
"He complained of shortness of breath on April 30 and got admitted at the hospital and when he got tested, he was positive of the virus," Kambuni told Mshale via phone.
Kambuni said it is not clear where his father might have contracted the coronavirus given that he had been staying close to home following Governor Walz's stay-at-home order, only going outside his apartment to get mail, as far as he can recall.
The son said given his father's expressed wishes over the years to be buried at his birth place, the family is trying to come to terms on how to respect those wishes given the global pandemic. Kenya is among the African countries that have closed their airspace to commercial flights following the COVID-19 global pandemic.
Nyambane's friend, Daniel Monari, said the late Nyambane worked hard to bring Kenyans in Minnesota, especially those from Gusii, together and was tireless in facilitating interaction between Minnesota and his native Kisii County in Kenya, at one time being part of a delegation of Minnesota firefighters that went to Kisii to train their counterparts.
"He loved working for Kenyans, loved to be involved, loved to serve the community. Not seeing himself as a leader, but as a uniter of us all."
Monari added one thing that struck him most about the late Nyambane was the fact that he gave equal respect to ideas from both men and women, recalling a time when Nyambane was chair of the Basi Community Foundation and he was the treasurer, "He would never allow dysfunction to surround him, and he put in place structures at the foundation that have stood the test of time."
Echoing the late Nyambane as a respecter of all sexes was Lyna Nyamwaya, president of The African Nurses Network. Despite his influence and standing, Nyamwaya recalls how modest Nyambane was when she invited him to be part of a panel two years ago. Speaking in Ekegusii, Nyambane said "Baba Lyna ning'isaine koroku richuma gaki? Korende asengecho yamasikani ao, I will do it." Loosely translated the late Nyambane was wondering if he was worthy of being on the panel but because of the respect Nyamwaya had shown him he would join the panel.
The president of the Minnesota Kenya Association, Geoffrey "Chui" Gichana, moaned the loss of a mentor whose wise counsel he said he will miss.
"He is one of those people you feel better after you are done talking to. He was a great elder and leader of our community that we are going to really miss, and especially me personally," said Gichana.
Nyambane is survived by his wife of more than four decades Alice, his daughter Mercy and two sons, Cyprian and Fred.
Funeral arrangements are pending.

Born and raised in Kenya's coastal city of Mombasa, Tom is the Founder, Editor-in-Chief and Publisher of Mshale which has been reporting on the news and culture of African immigrants in the United States since 1995. He has a BA in Business from Metro State University and a Public Leadership Credential from Harvard's Kennedy School of Government. He was the original host of Talking Drum, the signature current affairs show on the African Broadcasting Network (ABN-America), which was available nationwide in the United States via the Dish Network satellite service. On the show, he interviewed Nobel laureates such as 2004 Nobel Peace prize winner, Professor Wangari Maathai, the first woman from Africa to win the peace prize and heads of states. Tom has served and chaired various boards including Global Minnesota (formerly Minnesota International Center), the sixth largest World Affairs Council in the United States. He has previously served as the first Black President of the Board of Directors at Books for Africa. He also serves on the boards of New Vision Foundation and the Minnesota Multicultural Media Consortium. He has previously served two terms on the board of the United Nations Association. An avid runner, he retired from running full marathons after turning 50 and now only focuses on training for half marathons.





(3 votes, average: 4.33 out of 5)


Loading...