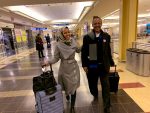 On Monday June 15 Nur Omar Mohamed, the father of congresswoman Ilhan Omar, died from COVID-19 complications.
"إِنَّا لِلّهِ وَإِنَّـا إِلَيْهِ رَاجِعُونَ. Inna lillahi wa inna ilayhi raji'cuun. Surely we belong to God and to Him shall we return," Rep. Omar wrote in a statement. "It is with tremendous sadness and pain that I share that my father, Nur Omar Mohamed, passed away today due to complications from COVID-19."
Mr. Mohamed immigrated to the United States in 1995 with his family after living in a refugee camp in Kenya for 4 years after fleeing the civil war in Somalia. They settled in Arlington, Virginia before moving to Minnesota where he worked as a taxi driver and later for the United States Postal Service.
The congresswoman has long credited her father for encouraging her to pursue politics and to speak for what she believes in. Rep. Omar is the first black person born in Africa to be elected to the US Congress.
"No words can describe what he meant to me and all who knew him," the congresswoman said in the statement sent to media Monday evening.
He is survived by his children and grandchildren.
Cynthia is a graduate of the University of Minnesota School of Journalism. She has interned at Mshale and Voice of America and previously worked at the Minnesota Daily. She recently returned from Seoul, South Korea where she was an English educator.





(1 votes, average: 5.00 out of 5)


Loading...