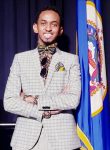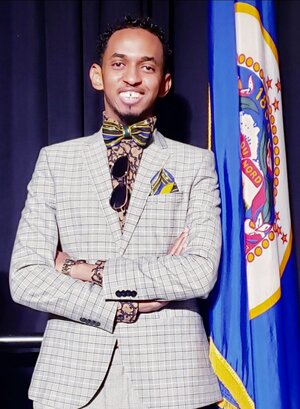 Entrepreneur and community organizer Ukasha Dakane is the latest candidate running for a seat on the Edina City Council. There are two open seats with the two incumbents not seeking reelection. Seven candidates had filed by the filing closing date of August 11, four of them from communities of color.
Dakane, a seven-year resident of Edina where he lives with his wife and two young daughters, told Mshale he was inspired to run for the position after observing a need for more representation on the council. "What inspired me to run for office is my voice as a resident for Edina City Council has been missing," he said.
Part of his mission is to ensure that underrepresented voices are included in the city's decisions. "The Edina I have known is changing its growing and becoming more diverse, we can no longer have a one size fits all approach [for] local governing," he said.
Dakane is also running to continue his mission of empowering youth, promoting sustainable growth, as well as affordable housing among other issues. If elected for the position his first point of service would be to empower and engage youth in local government.
"Edina's children are the young people of tomorrow," he said. Dakane has received numerous awards for his involvement in community engagement and leadership. In 2018, he received the Leadership Community Award from the Edina Community Foundation for his project "Let It Go", which educates youth on how to become community leaders and peace ambassadors.
Part of Dakane's mission is also to ensure financial transparency and accountability. "I will make sure that the city is moving and thriving without engaging any debt," he said. Dakane wants to see the city expand its projects in a fiscally sustainable manner. The city of Edina has an average yearly budget of $120 million.
Dakane currently serves on Edina's energy and environment commission, a mayoral and council appointment. He was also appointed and reappointed to serve on Minnesota's Board of Marriage and Family Therapy by both former Governor Mark Dayton and current Governor Tim Waltz and Lieutenant Governor Peggy Flanagan.
A native of Kenya, Dakane moved to the United States to be with his wife seven years ago. After navigating through the challenges of establishing life in a new country, Dakane was inspired to create a non-profit organization focused on helping new immigrants find employment. So far, the organization has helped 450 families find employment. His work in promoting stability and workforce enrollment for refugees awarded him a feature in the Refugee Hall of Fame.
For the city council hopeful, Edina is home. He finds the connection between the city's name and his native Somali language. "The pronunciation of Edina means "our home" in Somali," he said.
"The welcoming neighbors, the amazing fabric, and the awesomeness in this city inspired me to move [to] Edina" he said.
Looking ahead, Dakane has a bold and inclusive mission for Edina. "My vision for Edina is to see a community that has a strong leadership with a prosperity that can make the young, the adults, and everyone to like living, working, and worth hiring in this city," he said.
This story has been updated to reflect the fact that Mr. Dakane moved to the United States to be with his wife. An earlier version indicated that both him and his wife moved to the United States at the same time.
Cynthia is a graduate of the University of Minnesota School of Journalism. She has interned at Mshale and Voice of America and previously worked at the Minnesota Daily. She recently returned from Seoul, South Korea where she was an English educator.





(1 votes, average: 5.00 out of 5)


Loading...