Author, entrepreneur, and public servant De'Vonna Pittman is vying for a seat on Hennepin County's Board of Commissioners representing District 1. The district includes the cities of Brooklyn Center, Brooklyn Park, Crystal, New Hope, Osseo and Robbinsdale.
Pittman, a DFL endorsed candidate, has spent nearly two decades working in public service for Hennepin County. First starting as a clerk to the Board of Commissioners and now as a Disparity Reduction Coordinator. Her current role in the County is focused on identifying and solving issues within the County's various systems.
Beyond her professional background Pittman has personal experience navigating Hennepin County's systems as a resident.
"I have experienced many of the issues that residents face," she said.
After moving to Minnesota over two decades ago, as a single parent Pittman struggled to find affordable housing and reliable transportation. She was able to utilize the various resources Hennepin County offers to help establish a comfortable life in her new home of Minnesota.
These included opportunities for employment and resources for her to further her studies. Completing a Bachelors degree in Criminal Justice Metropolitan State University and later obtaining a Master of Science in Law Enforcement Leadership from the University of Saint Thomas.
These lived experiences coupled with her professional background have motivated her to seek a more direct role in how funds to manage Hennepin County's various resources are managed.
"I'm so committed to the opportunities that I see every day," she said.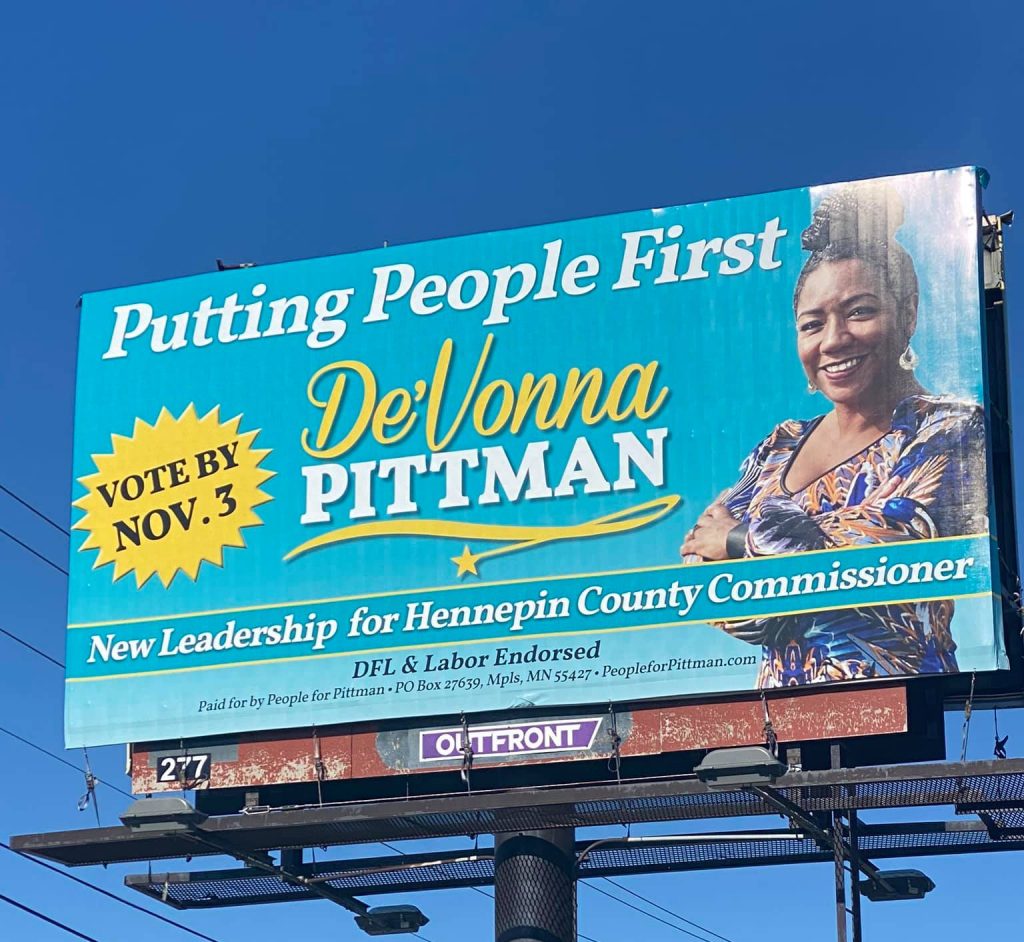 Pittman is running on a platform to address issues in transportation, affordable housing, and workforce development. Of the challenges listed she considers affordable housing to be the most critical.
"The homelessness and affordable housing issues are so important," Pittman said. In the state's largest county, affordable housing and homelessness remain as key challenges to address, with thousands of individuals not having adequate shelter and others struggling to maintain their places of resident.
Pittman wants to ensure that individuals and families are able to have more affordable housing options. She also wants to make sure that eviction ordinances are maintained throughout the pandemic and that landlords are able to receive compensation for housing tenants that are unable to pay rent.
If elected into office, voters can expect to meet a leader that actively listens to their needs before making decisions. "I want to spend the first 90 days listening," she said.
In the past two decades Pittman has lived in Hennepin County she's witnessed a lot of changes.
"Since I've lived in the district I've seen lots of diversity," she said. "The population is growing in a good way".
As Hennepin County continues to grow and expand Pittman wants to ensure that the Board of Commissioners is able to reflect and adequately provide for positive change.
Hennepin County has seven commissioners representing the county's seven different districts with each serving four year terms. The board oversees a 2.5-billion-dollar budget to manage the county's systems which include, health care, transportation, law enforcement, housing, libraries, and infrastructure.
Pittman is running to fill an open seat. Outgoing District 1 Commissioner Mike Opat is not seeking reelection. After nearly thirty years as a commissioner, Mike Opat announced an early departure from his position on Tuesday. He will leave his post on November 7 two months before his term ends.
DeVonna Pittman lives in New Hope with her family.
Voting for the November elections is underway. With Election Day just days away, any outstanding mail in ballots should be dropped off physically to early voting centers, drop boxes or brought to your polling place on Election Day.
Cynthia is a graduate of the University of Minnesota School of Journalism. She has interned at Mshale and Voice of America and previously worked at the Minnesota Daily. She recently returned from Seoul, South Korea where she was an English educator.





(1 votes, average: 5.00 out of 5)


Loading...