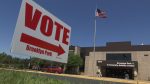 A federal appeals court late Thursday ruled that Minnesota ballots received after Election Day on November 3, even if postmarked November 3, should not to be counted, but set aside to allow for any legal challenges that might arise.
Court documents say that in order for an absentee ballot to count, "election officials must receive absentee ballots delivered by hand by 3 p.m., and those delivered by mail by 8 p.m. Ballots received after those times 'shall be marked as received late by the county auditor or municipal clerk and must not be delivered to the ballot board."
Top Democratic elected officials including Senator Amy Klobuchar have on Friday morning advised all Minnesota voters that still have absentee ballots in their possession not to mail them but to instead bring their ballots in person to an early voting center or drop-off location.
If you mail your absentee ballot at this point there is no way it will get to your county elections office on time and might not be counted.
Alternatively, if you have already mailed your ballot but by Monday, November 2 when you track at it at https://mnvotes.sos.state.mn.us/AbsenteeBallotStatus.aspx it does not show as received, you should go in person on November 3 and vote in person. Election judges can look up to see you requested an absentee ballot which they can invalidate and allow you to vote in person.
More information? Visit the Minnesota Secretary of State website: mnvotes.org.
Minnesota law requires that absentee ballots be received by Election Day. But that deadline was extended through a settlement Secretary of State Steve Simon reached with a citizens group that sued earlier this year. That settlement was approved by a judge and it allowed election officials to count ballots received through November 10 as along as they were postmarked by November 3. Republicans immediately challenged the settlement and it is what the 8th Circuit Court ruled on late Thursday.
Minnesota GOP Chairwoman Jennifer Carnahan applauded the ruling by saying "We applaud the Eighth Circuit Court of Appeals for upholding the integrity of the election and affirming Election Day as November 3rd."
The following is what DFL Party Chairman Ken Martin said in a statement to media after the ruling:
"Today's ruling by the 8th Circuit Court of Appeals is an attack on democracy brought about by a Republican Party desperate to stifle the voices of Minnesotans across our state. This absurd and misguided opinion will toss out the rules that have been in place since before voting began in September. Now, with just five days before Election Day, and Republicans surely heading for defeat at the polls, the Republican Party is responsible for potentially disenfranchising thousands of Minnesotans who were prepared to vote by mail in the coming days.
"I urge the people of Minnesota to return any outstanding mail-in ballots in-person as soon as possible. The reason the Republican Party is attacking your right to vote is because of the power of that vote to change our state and country. The Republicans are so desperate to win they are willing to trample on our most fundamental right as Americans – the right to vote. Despite their disgusting maneuvers, this ruling cannot and will not stop the people of Minnesota from holding Republicans accountable for failing us during this pandemic."





(1 votes, average: 5.00 out of 5)


Loading...