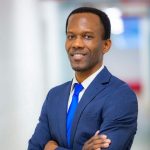 After years of working as the first African-born person in the senior leadership of Minnesota Democratic Party, one would expect Ian Oundo to perhaps use his experience to run for office. But Oundo, who was the director of civic engagement for the party known in the state as Democratic Farmer-Labor (DFL), has other ideas. He thought he could make an even greater impact on African immigrants and other communities of color by using his experience to help prospective minority candidates learn how to run successful campaigns.
"We are really looking to focus on how to make sure that we are creating opportunities that will allow our communities to be a part of the conversation, and not feel like they are always an afterthought," said Oundo, who was born in Uganda.
One way to get the underrepresented communities involved in the making of decisions that affect them is to be active in the political process, according to Oundo.
"A lot of our community members are not as engaged and involved as they should be," Oundo said.
Although African immigrants make up nearly 5 percent of the foreign-born population in the United States, they are some of the most underrepresented in active politics. In the 2020 U.S. elections, for example, only about three-dozen African-born citizens ran for elected offices across the country, an insignificant number for a community whose population is estimated to be 2.5 million people, according to the U.S. Census Bureau data.
Oundo said he wanted to change that by increasing the number of Africans and minorities running for office, not only in Minnesota but also across the country. In February, he founded Makesi Creative Strategies, a political consulting firm whose mission is to give minority candidates the tools they need to run successful political campaigns. It's a void he saw while working at the DFL, he said.
As the party's director of community engagement, Oundo said he traveled extensively throughout the state and met with people from various communities who wanted to get into politics because they felt ignored.
"You know, you go to places like Saint Cloud, where there's a very large population of our immigrant community, but they feel like nobody is hearing them," Oundo said. "A lot of them want to get involved, but they don't have the knowledge, the resources, the tools."
Oundo said although a lot of emphasis gets put on statewide and nationwide races, many of the decisions that affect most people are made on the local level. That's why his firm would focus on helping people from minority communities navigate the complexities of engaging in politics on that level and eventually gain the experience necessary to run statewide and national campaigns.
"Not much emphasis is put on municipal races, or county-level races, and that is where most of our people live," Oundo said. "We usually say politics are local. There is an opportunity for us to build on that and understand that part of how we make all of our other races and offices stronger is by building a strong foundation. That begins with us supporting local races."
Leaders in the African immigrant community say Oundo's experience working at the top echelon of DFL party leadership will bring much-needed knowledge to people who may want to run for office but don't know where to begin.
"It's so great that we have a brother like Ian, who already knows it because he has been inside when most of us have been outside," said Nyakade Tot. "We can now follow in his footsteps and he's going to open a lot of doors for all of us, especial for us Africans."
Tot, who runs Sudd Women Outreach Project, a nonprofit based in Coon Rapids, Minn., that serves Sudanese women and children, met Oundo when he showed up at one of her events in 2018. She described him as a selfless servant of the African immigrant community, and said he would succeed in his new venture.
"I'm so proud of him for this move he has made," Tot said. "He is a people person. When he sees you, even if he doesn't know you, he will run to you like you're a sister or brother. He is a gift for all of us, a person that all of us can look up to. I don't have any doubt that in the program he has started he will include all of us."
Nasibu Sareva, a Tanzanian-American who is the executive director of Minnesota-based African Development Center, said Oundo's experience would bring new opportunities for the advancement of the African immigrant community's political ambitions.
"Mr. Oundo has a clear vision of how our community can sit at the important tables," Sereva said. "He is very decisive but also humble. He has the self-confidence and self-awareness to recognize the value of others."
Sareva described Oundo as someone who always showed up at community gatherings and tried to convince people that it is important for all to take part in the process of the making the big decisions that affect their lives.
"He always exhibits a positive attitude in these meetings," Sareva said. "I am so excited about his newly-minted consulting firm and I really do hope that our community will take advantage of services provided by him and his firm. I think this is where Mr. Oundo is going to maximize his problem-solving ability, expertise and capabilities to drive change and create lasting impact."
Oundo said his desire to serve in leadership roles began at an early age, when he was growing up in Uganda. In high school, he served in student government, and after graduation, he went into organizing in his community in Kampala, the capital.
"I've always been very, very involved in organizing people around issues, in making sure that people understand that it's through getting involved, that things happen," Oundo said.
In 2000, he left Uganda and moved to Kansas to go to college. Like the Africans he is now trying to get to participate in politics, Oundo didn't get involved in political organizing in his early years in the United States.
"Politics in this country is a little different [from Africa]," Oundo said. "It usually takes time for people to wrap their heads around how things work."
Even after he moved to Minnesota in 2005, Oundo didn't immediately get into politics. But he continued to organize his new community around non-political issues like raising funds to help community members with funeral expenses of loved ones.
"It wasn't until Obama ran for president that I really got more inquisitive and wanted to know how I could get involved," Oundo said. "Obama gave us a different sense of hope as an African man, as a black man in this country. For the first time I saw something. I saw somebody that looked like me. I didn't know how, but I knew I wanted to help this man becomes the next president of this country."
Oundo said he walked into the neighborhood offices of Obama's campaign and asked how he could help. They trained him how to work the phone bank. They gave him scripts with talking points and sent him knocking on doors.
"It really brought a sense of pride in me knowing that I was doing something that was directly hopefully going to impact the direction of this country," Oundo said.
After Obama's successful campaign, Oundo was even more inspired and continued to be more active in DFL matters. He rose through the ranks to become the party's statewide director of civic engagement. He said he now wants to use what he learned from his years of working as a senior party official to benefit candidates from underrepresented communities.
"Many of them are just really strong community leaders who love their communities," Oundo said. "But it's one thing to be a community leader; it's another thing to know how to run a successful political campaign. Those are two different things."
Edwin Okong'o is a Mshale Contributing Editor. Formerly he was the newspaper's editor.





(1 votes, average: 5.00 out of 5)


Loading...