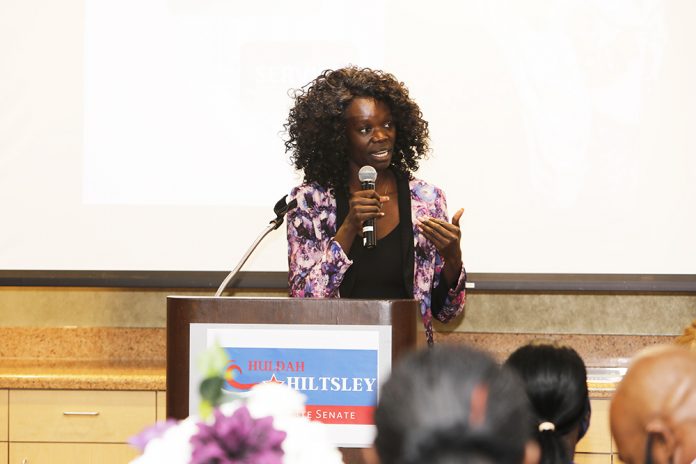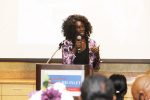 SAINT PAUL, Minn. – Huldah Nyamisa Momanyi Hiltsley, a leader in the African community in Minnesota, on Thursday launched her campaign for state Senate in 2022.
She is running to replace DFL Sen. Chris Eaton who announced last month that she will not be seeking reelection and represents what is now Senate District 40 ahead of redistricting. Because of the new Census 2020 figures that were recently released, district boundaries will not be known until sometime next year.
"I am running to fight for a future where a better quality of life is accessible to all residents in this district," Hiltsley said at an evening event at the Paul and Sheila Wellstone Center. Around 60 people, including DFL House Ways and Means committee chair Rep. Rena Moran and state House Rep. Cedric Franzen, gathered with sambusa, pita bread and salad while Hiltsley gave a 15-minute speech.
The choice of venue outside of District 40 was intentional. Hiltsley is the daughter of Philip and Tabitha Momanyi, Kenyan immigrants who were less than 48 hours from being deported in 2000 were it not for the intervention of late Minnesota US Senator Paul Wellstone who the center is named after. The senator came to the family's aid after pleas from Progressive Baptist Church, a prominent Black church that the family attended.
Paul Wellstone was a beloved two-term Democratic senator from Minnesota. He and his wife Sheila died in a plane crash in October, 2002 in Eveleth, Minnesota just 11 days before Election Day.
"He will forever be part of the fabric of our family's American Story. This is my family's tribute to him and his heart of service to others. He inspired me to run for Senate because when good people run, lives are changed for the better."
On Thursday, the aspiring state senator's two Sunday School teachers from Progressive were present to witness her candidacy announcement.
"Huldah, I believe that you are the person of the moment, in a moment that needs you," Rep. Moran, who is the first Black woman to chair the powerful House Way and Means committee, said. "I am so excited tonight as I believe you are the one, we have been waiting for."
Hiltsley, who is president of the Mwanyagetinge Association of Kenyans in Minnesota and a corporate compliance specialist by profession, described herself as someone who values integrity, accountability, transparency and equity. Those values were echoed by some of the speakers at the launch, including Ian Oundo, the former DFL director for civic engagement before he left to form a political consultancy firm. Hiltsley said she would fight for a future where a better quality of life is accessible to all residents in her district.
Born in Nyamira County in Kenya in 1985, Momanyi Hiltsley moved to the United States at the age of nine and was a graduate of the Class of 2004 at Robbinsdale Cooper High School in New Hope, Minnesota. She attended Bethel University in St. Paul where she received both her bachelor's degree in International Business and an MBA. She is a recipient of The Morrill Hall and Rachel Tilsen Social Justice Award for her commitment to social justice and restorative justice practices.
While Minnesota elected its first woman to the state Senate in 1927, it took 75 years before a woman of color got elected when Hmong American Mee Moua became the first Asian to be elected in 2002.
Blacks make up 33 percent of the residents of Senate District 40, Asians 17 percent while those who identify as white make up 35 percent.
Should Momanyi Hiltsley emerge victorious in the 2022 election, she would become the first Black woman elected to the Minnesota State Senate, a point Rep. Moran made a point to emphasize.

Born and raised in Kenya's coastal city of Mombasa, Tom is the Founder, Editor-in-Chief and Publisher of Mshale which has been reporting on the news and culture of African immigrants in the United States since 1995. He has a BA in Business from Metro State University and a Public Leadership Credential from Harvard's Kennedy School of Government. He was the original host of Talking Drum, the signature current affairs show on the African Broadcasting Network (ABN-America), which was available nationwide in the United States via the Dish Network satellite service. On the show, he interviewed Nobel laureates such as 2004 Nobel Peace prize winner, Professor Wangari Maathai, the first woman from Africa to win the peace prize and heads of states. Tom has served and chaired various boards including Global Minnesota (formerly Minnesota International Center), the sixth largest World Affairs Council in the United States. He has previously served as the first Black President of the Board of Directors at Books for Africa. He also serves on the boards of New Vision Foundation and the Minnesota Multicultural Media Consortium. He has previously served two terms on the board of the United Nations Association. An avid runner, he retired from running full marathons after turning 50 and now only focuses on training for half marathons.





(2 votes, average: 5.00 out of 5)


Loading...