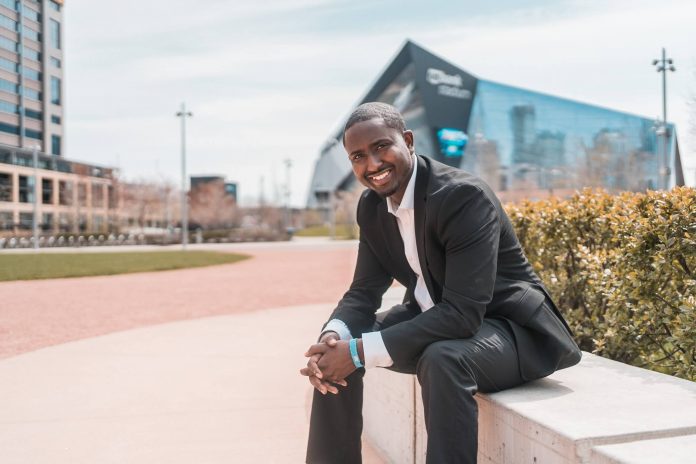 AJ Awed says Minneapolis is a polarized city. But he thinks he has the solution. The Somali American, who once ran to represent Ward 6 in the Minneapolis city council now wants to be the city's mayor.
"The city is really going through a tough period," Awed says. "These growing pains, I think we need someone who has the capacity to bring people together."
Awed says he wants to utilize his experience as a professional mediator to unify Minneapolis.
In the past year and a half, the city of Minneapolis has received both national and global attention following the death of George Floyd, an unarmed African American man who was murdered by police. The death of Floyd sparked outrage and sent the city into a series of protests that have largely left parts of it unrecognizable. Local businesses were forced to close due to rioting, as well as the effects of a global pandemic that has left some industries struggling to recover.
Today Minneapolis is a city in recovery, as businesses and streets that were once closed are now open. The city is also in its electoral season for its next leader.
"I believe having an African American mayor as a leader in our municipality would not only be great for our community, it'll be definitely a great change from what we have in our community right now," says Tola Vann, who has lived in Minneapolis for 10 years.
Vann is the executive director of operations and development for the Cedar Riverside Community Council, a non-profit organization that disburses funds from the city of Minneapolis's community fund to appropriate recipients.
If Awed succeeds in his bid, he will be the city's first black male Mayor and the second person of color to hold the position after Sharon Sayles Belton's 1994 victory as the city's first black and also first female Mayor.
Although Minnesota is ranked highly for quality of life nationwide, according to US News and World Report, it also has one the nation's highest racial wealth gaps. The state has the second largest wealth gap between white and black residents, second only to the District of Columbia.
Awed wants to address inequality by increasing funding and resources for underserved communities.Since moving to Minneapolis twelve years ago, Awed says that he has seen tremendous increase in homelessness, chemical dependency, and political division. He also wants to address the problem of lack of affordable housing, increase community engagement, and fund rehabilitation services and public safety, which he says he will pay for by increasing taxes on wealthy Minneapolis residents.
Among the issues that his campaign promises to address, Awed considers public safety to be the most critical.
"My top priority is public safety," he says. "Because nothing that I have envisioned for the city can actually manifest into reality and materialize when we have such high rates of crime and high levels of attrition from police officers."
If elected Awed vows to increase funding for the police department. He has publicly shunned the Yes 4 Minneapolis campaign which is a movement that wants the city of Minneapolis to create a Department of Safety that provides alternatives for policing.
Minneapolis native Mark Wegmiller says he's been disappointed with the city's leadership for decades and is looking for a fresh new change to move the city forward.
"Minneapolis has been a very poorly run city," he says. "I would like to see a real leader in our next mayor."
Awed's journey to City Hall won't be smooth. He is in a crowded race with seventeen candidates running to unseat Jacob Frey, the incumbent, who has a war chest of $384,000 in donations. But if the amount of money raised is an indication of how competitive a candidate will be, then Awed is Frey's most formidable challenger. According to campaign finance data, Awed has raised over $230,000 – more than any other candidate challenging the mayor.
If Awed is to succeed, he needs to woo voters like Matthew Burandt, a resident in the city's downtown, who says he wants to maintain the current leadership of mayor Frey, but is open to listening to what other candidates have to offer.
"I would definitely change my mind if there was a compelling alternative," Burandt says.
Professionally, Awed is a mediator, and the executive director for policy and programs in the Cedar Riverside Community Council. He is also a fellow at the American Arbitration Association and serves on the board of directors at Community Mediation and Restorative Services. He holds a bachelor's degree from the University of Minnesota in Sociology of Law, Criminology and Deviance, and a Juris Doctorate from the Mitchell Hamline School of Law.
Awed lives in the Marcy Holmes neighborhood with his wife Salma and their two sons.
Early voting for the Minneapolis City municipal elections will begin on Friday, September 17 and will continue until election day on Tuesday, November 2.
Cynthia is a graduate of the University of Minnesota School of Journalism. She has interned at Mshale and Voice of America and previously worked at the Minnesota Daily. She recently returned from Seoul, South Korea where she was an English educator.





(No Ratings Yet)


Loading...