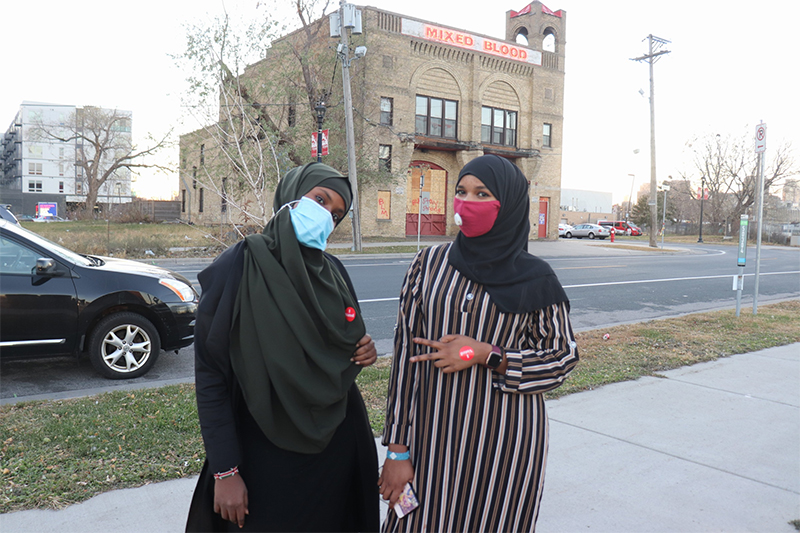 The African immigrant community's bid to expand its share of elected officials in the state had some bright spots and disappointing losses in equal measure. One of the bright spots was in the Minnesota legislature where the ranks of African immigrant legislators doubled to four from the previous two.
Here is the breakdown on how Tuesday night came in:
US House of Representatives
Ilhan Omar racked up a major victory as voters in the Fifth congressional district overwhelmingly chose her over Republican lacy Johnson and Legal Marijuana Now party's Michael Moore. Rep. Omar received 252,939 votes to Johnson's 101,470 and Moore's 37,295.
Minnesota Legislature
Esther Agbaje as was expected easily won House Seat 59B by getting 75 percent of 23,329 votes cast. A heavily Democratic district includes parts of north Minneapolis and downtown Minneapolis.
On the Minnesota Senate side, Omar Fateh also easily cruised to victory as expected receiving a whopping 89 percent of the 36,633 votes cast in Senate District 62, a heavily Democratic district.
The two newcomers join incumbents Hodan Hassan and Mohamud Noor who retained their seats easily with Hassan receiving 90 percent of the 15,674 votes cast. Rep. Noor was unopposed in his bid but the 17,000 voters who showed up to cast their ballot in the district for other races did vote for him.
Austin City Council
For city council races where African immigrant candidates were running, Oballa Oballa who we profiled here recently was one of two bright spots for the community in council races. Oballa received a convincing 57 percent of the vote to become the city's first Black mayor.
Brooklyn Center City Council
Two Liberian-Americans were on the ballot bidding for the two available council seats. Many had hoped one of them would make it in the four-person race to fill the two seats. In the final tally, Alfreda Daniels came close coming third behind the two eventual winners.
| | | |
| --- | --- | --- |
| Kris Lawrence-Anderson | 5,070 | 28.74% |
| Marquita Butler | 5,111 | 28.97% |
| Alfreda Daniels | 4,344 | 24.62% |
| Sizi G Goyah | 2,966 | 16.81% |
Brooklyn Park City Council
The disappointment in council races was most pronounced in Brooklyn Park albeit not unexpected. Kenyan-American Henry Momanyi in the West District barely squeaked through in the primary in August to appear on Tuesday's ballot against the incumbent Susan Pha, and the outcome in that primary repeated itself on Tuesday. Susan Pha easily trounced Momanyi receiving 74 percent of the vote to Momanyi's 24 percent.
Benjamin Osemenam ran a more competitive race in the East District by receiving almost 40 percent of the vote against the incumbent Lisa Jacobson's almost 60%.
East District
| | | |
| --- | --- | --- |
| Lisa Jacobson | 7,547 | 59.90% |
| Benjamin Osemenam | 5003 | 39.71% |
West District
| | | |
| --- | --- | --- |
| Susan Pha | 6,781 | 73.96% |
| Henry N. Momanyi | 2,329 | 25.40% |
Also worth mentioning is the Central District race where Boyd Morson who is African American beat the DFL endorsed Christian Eriksen 52 percent to 47 percent. Morson who considers himself an adopted Liberian has strong connections with the large African immigrant community in the city and will be considered an ally in the council.
Hennepin County Commissioner Outcome Implications for Brooklyn Park
The mayor's seat was not on the ballot on Tuesday but the city's Republican mayor Jeff Lunde was running for an open seat on the Hennepin County Board of Commissioners representing District 1. Lunde was able to beat the favored De'Vonna Pittman by 1,496 votes.
This will now create an open seat for mayor as Lunde takes his seat on the state's largest county board.
| | | |
| --- | --- | --- |
| Jeff Lunde | 36,744 | 50.83% |
| De'Vonna Pittman | 35,248 | 48.76% |
Hennepin County Board of Commissioners District 5
Kenyan-American Boni Njenga in his first run for office was unable to dislodge the incumbent Debbie Goettel who cruised to an easy victory beating Njenga 73 percent to his 26 percent.
| | | |
| --- | --- | --- |
| Debbie Goettel | 56,633 | 73.33% |
| Boni Njenga | 20,015 | 25.92% |
Champlin City Council
Kenyan-American Sam Mwangi lost in his bid to represent the city's Fourth ward in the council. After the final tally, he managed to garner 36 percent of the vote to the incumbent Ryan Sabas 63 percent.
Edina City Council
Two Kenya-Americans were running in this affluent city whose demographics have been changing. We featured them pre-election and you can read more about them here. Janet Kitui was running for the second time and improved on her performance from the last time but was unable to make it while Ukasha Dakane also came up short.
Seven candidates were running to fill two seats and included Cargill executive James Pierce. Pierce was the eventual top vote getter receiving almost 24 percent in that crowded field. His election to the council is noteworthy as it could be the largest haul of votes a Black candidate has ever received in this tony first ring suburb.
| | | |
| --- | --- | --- |
| Parinaz Kassemi | 1,950 | 3.74% |
| Janet Kitui  | 5,158 | 9.89% |
| James Pierce | 12,378 | 23.72% |
| Rhonda Bland | 8,954 | 17.16% |
| Carolyn Jackson | 10,761 | 20.62% |
| Joshua Ahlberg | 9,092 | 17.43% |
| Ukasha Dakane | 3,635 | 6.97% |
New Brighton City Council
In a race that was under the radar (even to Mshale), Abdullahi Abdulle, a Somali immigrant gave African immigrants a reason to smile when it comes to city council races. In a race that had six candidates to fill two seats, Abdulle was the top vote getter receiving 25 percent in the largely white district. Abdulle first moved to the United States in 2010 as a recipient of the Diversity Visa lottery, according to Sahan Journal. President Trump has been trying to eliminate the program as part of his attempt to restrict legal and illegal immigration. He previously served on the Minnesota National Guard.
| | | |
| --- | --- | --- |
| Pam Stegora Axberg | 3,923 | 20.70% |
| Brian Imholte | 1,802 | 9.51% |
| Jeffrey Nelson | 2,239 | 11.82% |
| Paul Jacobsen | 3,867 | 20.41% |
| Abdullahi Abdulle | 4,801 | 25.34% |
| Larry Justin | 2,215 | 11.69% |
Ramsey County District Judge
Nigerian American attorney Ngozi Akubuike's bid to become a county judge came up short when she received 65,132 votes (33 percent) of the votes cast. She was reportedly the first African immigrant to run for county judge in the state.
| | | |
| --- | --- | --- |
| Ngozi Akubuike | 65,312 | 33.08% |
| Pat Diamond | 131,187 | 66.45% |
This story will be updated.

Born and raised in Kenya's coastal city of Mombasa, Tom is the Founder, President and Publisher of Mshale. As the founder, he did a lot of the reporting during the humble beginnings of the newspaper. While he still does the occasional reporting, he now concentrates on the publishing side of the news operation. Tom was also the original host of Talking Drum, the signature current affairs show on the African Broadcasting Network (ABN-America), which was available nationwide in the United States via the Dishnetwork satellite service. On the show, he interviewed Nobel laureates such as 2004 Nobel Peace prize winner, Professor Wangari Maathai, the first woman from Africa to win the peace prize and heads of states such as the president of The Gambia, Yahya Jammeh at State House, Banjul. Tom has served and chaired various boards including Global Minnesota (formerly Minnesota International Center), the sixth largest World Affairs Council in the United States. He has previously served as President of the Board of Directors of Books for Africa, the largest shipper of donated books to Africa. He also serves on the boards of New Vision Foundation and the Minnesota Multicultural Media Consortium. Tom also served two terms on the board of the United Nations Association. He retired from running full marathons after turning 50 and now only focuses on half marathons.





(1 votes, average: 5.00 out of 5)


Loading...