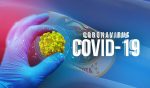 Minnesota has reported its single biggest increase of COVID-19 cases according to the Minnesota Department of Health with 3,956 new cases as of today (Nov. 5). It is the third consecutive day of record increases in the state.
The new number brings the state's cumulative total to 164,865 since the pandemic started. Out of that number, 15,435 are health care workers.
As the cases rise, the number of COVID-19 patients in the ICU is increasing according to the Minnesota Hospital Association. "As of today, one in five ICU patients is a COVID-19 patient," said the association's Dr. Rahul Korrane.
ICU beds in the Twin Cities are at 98% capacity and 92% in greater Minnesota, according to the latest media broef9ing from the Minnesota Department of Health. As of Wednesday afternoon, 887 patients were hospitalized with COVID-19, including 219 patients in intensive care due to breathing problems or other complications from the coronavirus.
State health officials did acknowledge patients that are not COVID-19 related occupy most ICU beds but the climbing numbers of coronavirus is straining the hospital system capacity.
"As we've been saying, hospitalizations lag a bit behind case growth and sadly, mortality lags behind hospitalizations, so as these numbers continue to go up, we're concerned about capacity in a lot of different contexts," said Jan Malcolm, the state's health commissioner. "We absolutely acknowledge that these numbers strain many of our critical systems in our society."





(No Ratings Yet)


Loading...