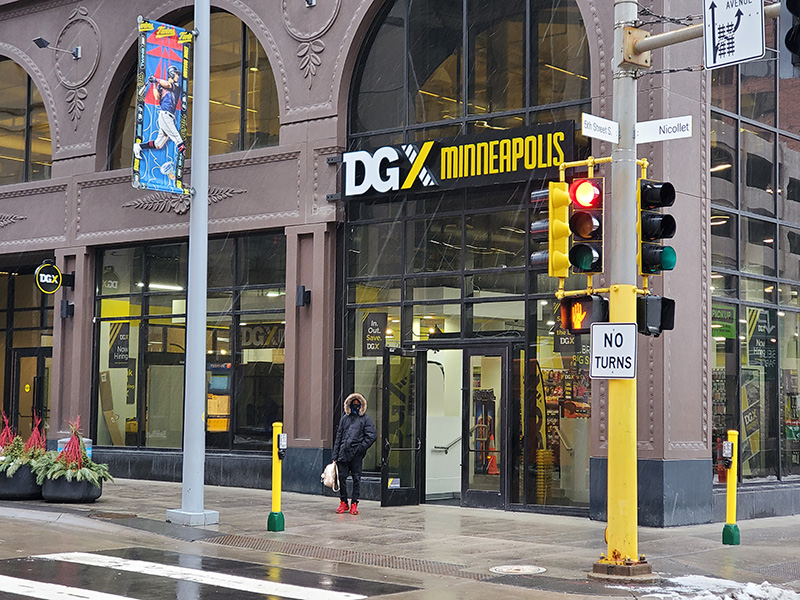 Nicollet mall in Minneapolis which recently underwent a $50 million makeover is now home to a DGX store, a new Dollar General store concept meant for city centers with merchandise geared towards instant consumption.
The new store is located at 520 Nicollet Mall on the corner of Nicollet Mall and Fifth Street.
A news release from Dollar General announcing the opening said the downtown store will provide customers with approximately 3,800 sales floor square feet of convenient, easy in-and-out retail space while providing a selection of fresh fruits and vegetables, an expanded health and beauty section, frozen and refrigerated food offerings.
Dollar General already operates 163 stores in Minnesota but the Minneapolis store is the first DGX store in the state for the company and brings the number of DGXs nationwide to twenty stores.
"We are excited to bring our DGX format to the Minneapolis community to help support the needs of customers in the city's vibrant downtown community," said Dan Nieser, Dollar General's senior vice president of real estate and development. "Through our DGX Minneapolis location, we look forward to serving customers with value and convenience on quality products to help them save money on the everyday, essential items they need."

Tom is the President and Publisher of Mshale and chair of the Minnesota Multicultural Media Consortium (MMMC). As Mshale founder, he did a lot of the reporting during the humble beginnings of the newspaper. While he still does the occasional reporting, he now concentrates on the publishing side of the news operation.Tom was also the original host of Talking Drum, the signature current affairs show on the African Broadcasting Network (ABN-America), which was available nationwide in the United States via the DishNetwork satellite service. On the show, he interviewed Nobel laureates such as 2004 Nobel Peace prize winner, Professor Wangari Maathai, the first woman from Africa to win the peace prize and heads of states such as the president of  The Gambia, Yahya Jammeh at State House, Banjul. Tom has previously served in the board of directors of Global Minnesota, the sixth largest World Affairs Council in the United States. He has also previously served as President of the Board of Directors of Books for Africa, the largest shipper of donated books to Africa and. He sits on the board of the United Nations Association.





(1 votes, average: 5.00 out of 5)


Loading...