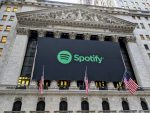 The streaming platform Spotify, which until now has been available in only 5 African countries, is set to launch in 40 additional African countries including Kenya, Angola, Benin, Zimbabwe, Nigeria and more.
The Swedish audio streaming service is home to over 50 million songs and 2 million podcasts as of the time of this writing.
In total, the company announced it is expanding into a total of 85 new markets around the globe. The company made the announcement at its Stream On event for creators and partners.
"Having more listeners on our platform creates more opportunities for artists and podcasters to make a living from their work. And more creators means more audio content for our users to discover," said Alex Norström, Spotify's Chief Freemium Business Officer. "This creates an essential flywheel between creators and listeners that is the foundation of our business — and in the end, it is what will propel the audio industry forward."
In the new markets it is launching, the company said it will make available its full global music catalog while the entire podcast catalog will be available in the majority of them.
"We will work with local creators and partners to expand our music offerings and deliver a Spotify experience that meets the unique needs of each market," Spotify said.
Spotify reported 345 million total monthly listeners in the fourth quarter of 2020, a number that includes 155 million premium subscribers.

Born and raised in Kenya's coastal city of Mombasa, Tom is the Founder, President and Publisher of Mshale. As the founder, he did a lot of the reporting during the humble beginnings of the newspaper. While he still does the occasional reporting, he now concentrates on the publishing side of the news operation. Tom was also the original host of Talking Drum, the signature current affairs show on the African Broadcasting Network (ABN-America), which was available nationwide in the United States via the Dishnetwork satellite service. On the show, he interviewed Nobel laureates such as 2004 Nobel Peace prize winner, Professor Wangari Maathai, the first woman from Africa to win the peace prize and heads of states such as the president of The Gambia, Yahya Jammeh at State House, Banjul. Tom has served and chaired various boards including Global Minnesota (formerly Minnesota International Center), the sixth largest World Affairs Council in the United States. He has previously served as President of the Board of Directors of Books for Africa, the largest shipper of donated books to Africa. He also serves on the boards of New Vision Foundation and the Minnesota Multicultural Media Consortium. Tom also served two terms on the board of the United Nations Association. He retired from running full marathons after turning 50 and now only focuses on half marathons.





(No Ratings Yet)


Loading...