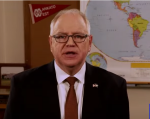 Minnesota Gov. Tim Walz on Sunday delivered an upbeat 2021 "State of the State" address and said brighter days are ahead as the state is on track to beat the coronavirus pandemic.
"The state of our state is strong, Minnesota," Walz said in a speech streamed live from Mankato West High School, where he taught social studies before joining politics. "This is our goal-line stand. Get vaccinated. We are coming back."
The governor's speech comes in the wake of milestones the state has achieved in fighting the pandemic. The state has so far vaccinated 1.5 million people which includes 80% of seniors.
"To everyone who has lost someone they care about this year, Minnesota's heart breaks for you," said Gov. Walz.
The governor's address to the state came a day before the trial of Derek Chauvin who is facing murder charges of kneeling on the late George Floyd and killing him.
Walz evoked the name of Martin Luther King Jr. when he said "Please, Minnesotans, make your voices heard. Practice your First Amendment right — but please heed Dr. King's advice that nonviolence is the only way to truly move hearts and create change."

Born and raised in Kenya's coastal city of Mombasa, Tom is the Founder, President and Publisher of Mshale. As the founder, he did a lot of the reporting during the humble beginnings of the newspaper. While he still does the occasional reporting, he now concentrates on the publishing side of the news operation. Tom was also the original host of Talking Drum, the signature current affairs show on the African Broadcasting Network (ABN-America), which was available nationwide in the United States via the Dishnetwork satellite service. On the show, he interviewed Nobel laureates such as 2004 Nobel Peace prize winner, Professor Wangari Maathai, the first woman from Africa to win the peace prize and heads of states such as the president of The Gambia, Yahya Jammeh at State House, Banjul. Tom has served and chaired various boards including Global Minnesota (formerly Minnesota International Center), the sixth largest World Affairs Council in the United States. He has previously served as President of the Board of Directors of Books for Africa, the largest shipper of donated books to Africa. He also serves on the boards of New Vision Foundation and the Minnesota Multicultural Media Consortium. Tom also served two terms on the board of the United Nations Association. He retired from running full marathons after turning 50 and now only focuses on half marathons.





(No Ratings Yet)


Loading...