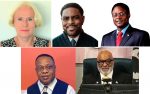 Candidates for mayor of Brooklyn Park took part in a virtual candidates' forum hosted by Beyond Media Solutions and Mshale. Collins Oppong of Beyond Media and Cynthia Simba of Mshale co-moderated the almost 80-minute session.
Five of the seven candidates in the race participated with Lisa Jacobson and Mark Mata citing a scheduling conflict for their absence.
In-person and mail-in absentee voting is already underway for the April 13 special primary election for mayor. You can find details on the city website at this link.
With just three weeks to the April 13 special primary election, candidates for the first time on Tuesday directly criticized votes or stances taken by their opponents and although this was a forum and not a debate, the criticized candidates did not shy away from responding.
Here are the highlights from Tuesday:
The gloves are off
Until now, candidates have focused on selling themselves and have not called out their opponents positions they agree on, at least not openly. They have left open direct criticism of their opponents to their supporters and surrogates.
However, with three weeks to go and time becoming an issue, the gloves are off.
Benjamin Osemenam who in last week's forum promised "read my lips, no new taxes," this week signaled to voters that he is the one looking out for them
About 17 minutes into the forum, he said "At the last forum, it was mentioned that the city does not have money to clean our water. But one of the people that mentioned that, was on the Budget Commission, and the other was a City Council member that voted to give a staff $10,000 raise, but there was not enough money to clean our water. Now, it makes you wonder what are our priorities?"
Osemenam did not mention any names but viewers quickly had any confusion erased about five minutes later when Hollies Winston pointed out he is one of those being referred to when he chose to defend himself.
"I am the guy who sat on the Budget Advisory Commission. Paying someone $10,000 for hard work, is very different than a $20 to $25 million bill to fix hard water, versus investing in public safety and many of the issues that people of Brooklyn Park are concerned about."
Of the seven candidates in the race, Mark Mata who skipped this forum was the only one in the council when the water issue came up.
Candidates articulate their visions of policing
Throughout the campaign, all candidates have not shied away from trying to prove their public safety bona fides, even as they admit the city's police department needs to do things differently.
Tuesday was no different but their responses gave additional insight on the candidates'' different views on police-community relations overall.
At the forum, with the exception of Kurdyumova, they all committed to some version of 'community policing.'
Winston said the officers need to get out of their cars more and understand "What's going on, on a block-by-block basis." Him and Russell agreed that the department needs more officers of color.
"I have been here for 18 years; I have not had any problems with Brooklyn Park police. But that doesn't mean that some resident down the street, or someone who looks like me, who lives across 85th, may (not) have had a problem with the Brooklyn Park police," said Russell.
Morson reminded viewers of the ongoing Wilder Research study that is evaluating policing, community safety and violence prevention in the city.
In December, the city hired Wilder Research to evaluate policing, community safety and violence prevention for six months. Morson said of the study, after reminding viewers of its existence, that "I am the council member that sits on this particular committee."
Kurdyumova supports legal marijuana
Candidates were asked to list two priorities for reform in the city and supporters of legalized marijuana discovered they have a friend in Yelena Kurdyumova.
Kurdyumova came out in support of Minnesota House Majority Leader Ryan Winkler's legislation introduced on March 5 that would legalize the adult use of cannabis. Rep. Winkler when introducing the bill said the "legislation is the result of months of public discussions on how to responsibly legalize and regulate cannabis." Among the provisions in the bill, if it becomes law, is the expungement of most cannabis convictions.  In April 2020, the American Civil Liberties Union released a report that showed Black people are 5.4 times more likely than white people to be arrested for marijuana possession in Minnesota, despite comparable usage rates.
On Tuesday, in publicly supporting the legislation, Kurdyumova said "When it passes and becomes the law, it will open new, legal opportunities for Brooklyn Park's small businesses, marijuana dispensaries,
residents won't have to go to other states like South Dakota to buy cannabis, but will buy locally and leave their money in the city where they live."
Morson digs in on the Green Light Project
In the first forum, Morson shared his vision of a camera surveillance system to fight crime in the city modeled after Detroit's Green Light Project.
On Tuesday, he reiterated his commitment to the surveillance project saying "It has reduced crime in Detroit." Morson said his version of surveillance will be in conjunction with "A community radio patrol, where our volunteers would be our neighborhoods, our own people from our community, donating and give and volunteer and hour or two hours of their own time, to patrol their own neighborhood."
Osemenam is of a different mind when it comes to the Green Light Project although he does support some type of surveillance. He said that his version of surveillance will be "the establishment of public-private, citywide, surveillance system, linked to the police, that is not similar to what you have, you know, for the Green Light in Detroit. But something that is done in conjunction with our Toward Zero debt."
Agreement on immigration
Three of the five candidates at Tuesday's forum are immigrants and the other two, Morson and Winston, have longstanding relationships and support within the immigrant community.
Therefore, it was not surprising that there would be general agreement and support for issues of particular concern to immigrants.
Even with the broad agreement among the candidates, Osemenam made a statement worth noting when he said "As your next mayor, I will work with the police chief to sign off on all V visas, which protects immigrants from harm against them. In fact, as I mentioned earlier, that V visa is part of my Toward Zero Police Incident and Crime program."
Osemenam was probably referring to the U visa and not the V visa which is how the police chief will be involved. The U. S. Citizenship and Immigrations Services defines the U visa as "U nonimmigrant status (U visa) is set aside for victims of certain crimes who have suffered mental or physical abuse and are helpful to law enforcement or government officials in the investigation or prosecution of criminal activity."

Born and raised in Kenya's coastal city of Mombasa, Tom is the Founder, President and Publisher of Mshale. As the founder, he did a lot of the reporting during the humble beginnings of the newspaper. While he still does the occasional reporting, he now concentrates on the publishing side of the news operation. Tom was also the original host of Talking Drum, the signature current affairs show on the African Broadcasting Network (ABN-America), which was available nationwide in the United States via the Dishnetwork satellite service. On the show, he interviewed Nobel laureates such as 2004 Nobel Peace prize winner, Professor Wangari Maathai, the first woman from Africa to win the peace prize and heads of states such as the president of The Gambia, Yahya Jammeh at State House, Banjul. Tom has served and chaired various boards including Global Minnesota (formerly Minnesota International Center), the sixth largest World Affairs Council in the United States. He has previously served as President of the Board of Directors of Books for Africa, the largest shipper of donated books to Africa. He also serves on the boards of New Vision Foundation and the Minnesota Multicultural Media Consortium. Tom also served two terms on the board of the United Nations Association. He retired from running full marathons after turning 50 and now only focuses on half marathons.





(1 votes, average: 5.00 out of 5)


Loading...