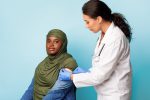 As Ramadan approaches Islamic Association of North America leaders are encouraging Muslims to take the COVID-19 vaccine in preparation for the holy month.
Their message echoes that of other Imams in Minnesota that Mshale reported in March.
Speaking via a video message, Imam Hassan Jama, the executive director of Islamic Association of North America said that "scholars and Imams of IANA have agreed that taking COVID vaccine is permissible and agreed by the scholars that taking the vaccine does not break one's fast because it is not considered food and drink."
His message was echoed by Imam Mohamed Mursal, chair of the IANA board who spoke in Somali.
Ramadan will start on April 12 or 13 depending on the sighting of the moon. Fasting during the month of Ramadan is one of the five pillars of Islam.
On April 2, the Muslim American Society of Minnesota started administering 5,600 of the Johnson & Johnson vaccines it said it had been allocated. The vaccination exercise which will conclude on April 13 when Ramadan is expected to begin is taking place at fifteen Twin Cities area mosques and one in Rochester.
Vaccines at the mosques were made available to both Muslims and those from the BIPOC community. This reporter was vaccinated at the Masjid Al Tawba in Eden Prairie yesterday when that mosque held its vaccination exercise.
The organization said it was offered a choice of three of the approved COVID-19 vaccines (Pfizer, Moderna and J & J) and chose the Johnson & Johnson because "we wanted the Muslims to be fully vaccinated before Ramadan starts. J&J is faster; one shot and done, while Moderna or Pfizer requires two shots 21 or 28 days apart, so the people will not be fully vaccinated until the end of Ramadan."
The organization said it wanted to avoid a situation where one might need to break their fast during Ramadan if they develop side effects that needs them to take medicine.
A fatwa declaring COVID vaccines halal (permissible) can be found here.

Born and raised in Kenya's coastal city of Mombasa, Tom is the Founder, Editor-in-Chief and Publisher of Mshale which has been reporting on the news and culture of African immigrants in the United States since 1995. He has a BA in Business from Metro State University and a Public Leadership Credential from Harvard's Kennedy School of Government. He was the original host of Talking Drum, the signature current affairs show on the African Broadcasting Network (ABN-America), which was available nationwide in the United States via the Dish Network satellite service. On the show, he interviewed Nobel laureates such as 2004 Nobel Peace prize winner, Professor Wangari Maathai, the first woman from Africa to win the peace prize and heads of states. Tom has served and chaired various boards including Global Minnesota (formerly Minnesota International Center), the sixth largest World Affairs Council in the United States. He has previously served as the first Black President of the Board of Directors at Books for Africa. He also serves on the boards of New Vision Foundation and the Minnesota Multicultural Media Consortium. He has previously served two terms on the board of the United Nations Association. An avid runner, he retired from running full marathons after turning 50 and now only focuses on training for half marathons.





(1 votes, average: 5.00 out of 5)


Loading...