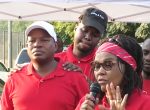 SAVAGE, Minn. – About 200 people gathered at Warren Butler Park Thursday night to remember 26-year-old Keegan Oyugi whose body was found inside his crashed car off Highway 101 in Savage, after missing since June 12. The vigil was organized by Minnesota Kenyans Association.
Attendees, which included family and friends, Kenyan faith and community leaders, embraced each other in support of the Oyugi family, many teary-eyed. They were joined by the mayor of Savage, Janet Williams and the city's police chief, Rodney Seurer who both offered condolences to the Oyugis on their city's behalf. The highway where Oyugi's body was found is a short distance from the park.
Most wore red which was Oyugi's favorite color.
"There was no one equal to him," said Tim Wendel, his roommate at Crown College. "His joy was giving out assists and not only in basketball but in life too."
Watch Video: Keegan Oyugi Prayer Vigil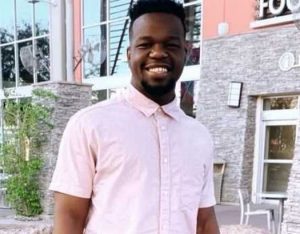 Oyugi graduated from Crown College two years ago, leaving his mark as a star player and beloved friend that after graduation continued to show up and help with the basketball program at his alma matter, tearful friends from the school recalled at the vigil.
Although few in the Kenyan community in Minnesota knew him, local Kenyan leaders, led by their chair Ms. Lillian Otieno, commended the community for coming together in a time of need to help the Oyugi family. Richard and Mirriam Oyugi, parents of Keegan who are residents of Wichita, Kansas have been in Minnesota since he went missing.
Otieno also thanked Minnesota United, a volunteer search and rescue organization, for helping in the search for Oyugi and pledged future cooperation from a thankful Kenyan community.
"I did not know Keegan as intimately as the basketball team did," said a student from Crown with his voice choking at the vigil. "But Keegan had a major impact in my life for the few interactions we had."
The student who did not give his name said he was going through depression and a personal crisis when one day he went to the cafeteria and sat down by himself and Keegan, who hardly knew him "just reached out and just started praying for me right there."
"The moments I remember with Keegan are always when he went out of his way to make people feel special," the student said. "He was so selfless and cared for everyone around him whether he knew them a little like me or a whole lot like Tim and his crew."
Pastor Zipporah Bogonko, Chair of the Kenyan Pastors Fellowship in Minnesota, said that "Our God is wonderful and loving no matter what we are going through."
"To the family I tell you God is the Prince of Peace, he stood and spoke to the sea. Spoke to the raging wave and said 'peace be still' and the raging storm stopped and everything calmed down," said Pastor Bogonko.
Bogonko told the family just as God quieted the raging storm, he will calm and console them as they mourn the loss of their son and brother.
As people were getting ready to light candles to honor the young Oyugi, his younger brother Reagan had one final reminder.
"If you didn't meet him, you missed out," he said. "They definitely don't make them any more like him."
Cash App for Keegan
Oyugi's body is currently with the Hennepin County Medical Examiner's Office for official identification and cause of death determination.
A Cash App account has been setup by Minnesota Kenyans Association to help the family with funeral expenses.
Details on how you can help are below.
Keegan Oyugi Cash App: $findkeegan
Keegan Oyugi Venmo: @ripkeegano
Keegan Oyugi Zelle: Richard Onkunya 3166512314
Bank Transfer/Wire: Bank of America – Account name = Richard Onkunya Routing # 101100045. Account # 005091269114.
Keegan Oyugi GoFundMe: https://gofund.me/383c1c2b
Traditional paper checks: Written out to Richard Onkunya (Keegan's father). Checks will be accepted at the July 1 prayer vigil.

Born and raised in Kenya's coastal city of Mombasa, Tom is the Founder, Editor-in-Chief and Publisher of Mshale which has been reporting on the news and culture of African immigrants in the United States since 1995. He has a BA in Business from Metro State University and a Public Leadership Credential from Harvard's Kennedy School of Government. He was the original host of Talking Drum, the signature current affairs show on the African Broadcasting Network (ABN-America), which was available nationwide in the United States via the Dish Network satellite service. On the show, he interviewed Nobel laureates such as 2004 Nobel Peace prize winner, Professor Wangari Maathai, the first woman from Africa to win the peace prize and heads of states. Tom has served and chaired various boards including Global Minnesota (formerly Minnesota International Center), the sixth largest World Affairs Council in the United States. He has previously served as the first Black President of the Board of Directors at Books for Africa. He also serves on the boards of New Vision Foundation and the Minnesota Multicultural Media Consortium. He has previously served two terms on the board of the United Nations Association. An avid runner, he retired from running full marathons after turning 50 and now only focuses on training for half marathons.





(No Ratings Yet)


Loading...