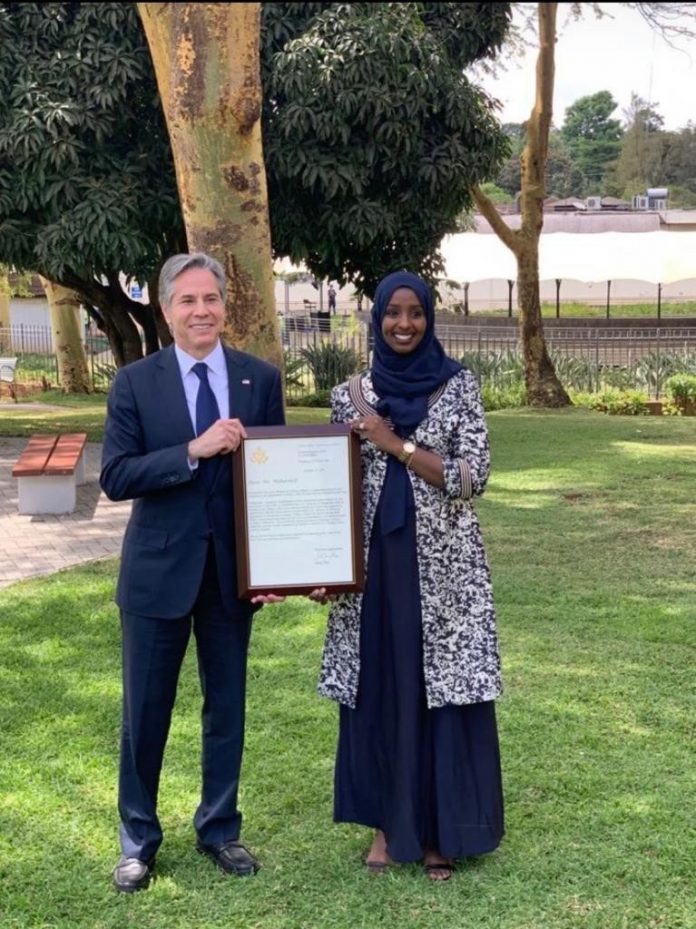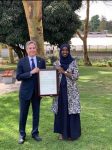 U.S. Secretary of State Antony Blinken presented this year's U.S. State Department Foreign Service National of the Year award to Muna Mohamed who works at the U.S. embassy in Somalia.
Secretary Blinken presented the award to Ms. Mohamed while in Nairobi during the secretary's three-nation tour to Kenya, Nigeria and Senegal.
According to the state department's Foreign Affairs Manual, the foreign service national award is "given in recognition of the value to the U.S. Government through special contributions made by Department of State Foreign Service National (FSN) employees, hired under direct hire appointments and personal service agreements at U.S. diplomatic posts abroad."
Winners of the award receive a certificate signed by the Secretary of State and a cash award of $10,000.
During his visit to Kenya, the gist of Blinken's remarks focused on the crises in Ethiopia and Sudan where he said the U.S. will be looking to African leadership like Kenya's to tackle the Horn of Africa crisis. In Nigeria he gave a speech in Abuja that outlined President Biden's Africa policy.
In an address at the Abuja-based headquarters of the Economic Community of West African States regional bloc, Blinken said "governments are becoming less transparent, we see this happening across Africa — leaders ignoring term limits, rigging or postponing elections, exploiting social grievances to gain and maintain power, arresting opposition figures, cracking down on the media, and allowing security services to enforce pandemic restrictions brutally."

Born and raised in Kenya's coastal city of Mombasa, Tom is the Founder, President and Publisher of Mshale. As the founder, he did a lot of the reporting during the humble beginnings of the newspaper. While he still does the occasional reporting, he now concentrates on the publishing side of the news operation. Tom was also the original host of Talking Drum, the signature current affairs show on the African Broadcasting Network (ABN-America), which was available nationwide in the United States via the Dishnetwork satellite service. On the show, he interviewed Nobel laureates such as 2004 Nobel Peace prize winner, Professor Wangari Maathai, the first woman from Africa to win the peace prize and heads of states such as the president of The Gambia, Yahya Jammeh at State House, Banjul. Tom has served and chaired various boards including Global Minnesota (formerly Minnesota International Center), the sixth largest World Affairs Council in the United States. He has previously served as President of the Board of Directors of Books for Africa, the largest shipper of donated books to Africa. He also serves on the boards of New Vision Foundation and the Minnesota Multicultural Media Consortium. Tom also served two terms on the board of the United Nations Association. He retired from running full marathons after turning 50 and now only focuses on half marathons.





(No Ratings Yet)


Loading...