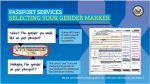 It is official. Starting today, April 11, you can select gender "X" in your US passport application. Previously you could only choose "F" or "M".
The change has already taken effect and forms on the State Department's website reflect this new choice. The Biden administration had signaled on June 30, 2021 that it will set in motion changes to allow applicants to self-select their gender as "M" or "F" and that it will no longer require medical certification "if an applicant's self-selected gender does not match the gender on their other citizenship or identity documents."
On March 30, 2022, the State Department said in a press statement that it arrived at the definition after seeking public feedback and consulting with other partner countries that have already implemented a third gender marker for non-binary, intersex, and gender non-conforming individuals. Countries that already offer options beyond male and female include Canada, Australia, India, Malta, Nepal and New Zealand.
"Finally, we have worked with the Centers for Disease Control and Prevention's National Center for Health Statistics to conduct qualitative research on how to define an X gender marker, interviewing a demographically diverse group of individuals, including many members of the LGBTQI+ community," the State Department said.
21 states and the District of Columbia already allow residents to select the "X" gender marker on their driver's licenses. A report released last month by the Williams Institute, an LGBTQ+ public policy think tank estimated that 16,700 of America's more than 1.2 million nonbinary LGBTQ+ residents might request the new passport with an "X" marker.
"This estimate is based upon current demand for X gender markers on driver's licenses in states which allow such an option," the report said.

Born and raised in Kenya's coastal city of Mombasa, Tom is the Founder, Editor-in-Chief and Publisher of Mshale which has been reporting on the news and culture of African immigrants in the United States since 1995. He has a BA in Business from Metro State University and a Public Leadership Credential from Harvard's Kennedy School of Government. He was the original host of Talking Drum, the signature current affairs show on the African Broadcasting Network (ABN-America), which was available nationwide in the United States via the Dish Network satellite service. On the show, he interviewed Nobel laureates such as 2004 Nobel Peace prize winner, Professor Wangari Maathai, the first woman from Africa to win the peace prize and heads of states. Tom has served and chaired various boards including Global Minnesota (formerly Minnesota International Center), the sixth largest World Affairs Council in the United States. He has previously served as the first Black President of the Board of Directors at Books for Africa. He also serves on the boards of New Vision Foundation and the Minnesota Multicultural Media Consortium. He has previously served two terms on the board of the United Nations Association. An avid runner, he retired from running full marathons after turning 50 and now only focuses on training for half marathons.





(No Ratings Yet)


Loading...