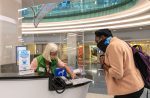 You will no longer have to wear a face mask at Minneapolis-St. Paul airport or on Metro Transit tarins and buses after a federal judge in Florida on Monday struck down the federal mask mandate airplanes, trains, buses and other public transportation.
The CDC just last week extended it through May 3 to allow the agency more time to study the effects of the BA.2 omicron subvariant of the coronavirus. The new subvariant is responsible for most new cases in the U.S.
Following U.S. District Judge Kathryn Kimball Mizelle's 59-page ruling, a Trump appointee, the White House called it "obviously a disappointing decision." Press Secretary Jen Psaki said "The CDC is recommending wearing a mask on public transit."
After most of the major airlines issued statements saying masks will no longer be enforced onboard following the ruling, the Metropolitan Airports Commission followed by announcing Monday evening that masks would be optional at Minneapolis-St. Paul International Airport and its six general aviation airports.
"Effective immediately, wearing masks will be optional after the Transportation Security Administration (TSA) issued guidance that it will no longer enforce mask-related regulations and will be withdrawing security directives that required face masks at airports, on aircraft and other forms of public transportation," MAC spokesman Jeff Lea said.
Metro Transit also posted on its website that it will no longer require riders to wear masks but encouraged them to do so and not to ride the trains and buses if one is ill.
"As of April 18, 2022, the federal order requiring masks on transit is no longer in effect. The Center for Diseases Control and Prevention continues to recommend that masks be worn in indoor public transportation settings," the Metro Transit statement said.

Born and raised in Kenya's coastal city of Mombasa, Tom is the Founder, Editor-in-Chief and Publisher of Mshale which has been reporting on the news and culture of African immigrants in the United States since 1995. He has a BA in Business from Metro State University and a Public Leadership Credential from Harvard's Kennedy School of Government. He was the original host of Talking Drum, the signature current affairs show on the African Broadcasting Network (ABN-America), which was available nationwide in the United States via the Dish Network satellite service. On the show, he interviewed Nobel laureates such as 2004 Nobel Peace prize winner, Professor Wangari Maathai, the first woman from Africa to win the peace prize and heads of states. Tom has served and chaired various boards including Global Minnesota (formerly Minnesota International Center), the sixth largest World Affairs Council in the United States. He has previously served as the first Black President of the Board of Directors at Books for Africa. He also serves on the boards of New Vision Foundation and the Minnesota Multicultural Media Consortium. He has previously served two terms on the board of the United Nations Association. An avid runner, he retired from running full marathons after turning 50 and now only focuses on training for half marathons.





(No Ratings Yet)


Loading...