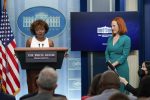 President Joe Biden announced on Thursday that Karine Jean-Pierre, 44, will be the new White House press secretary when Jen Psaki leaves the post on May 13.
Jean-Pierre who worked on Biden's 2020 presidential campaign has been deputy press secretary since Biden took office. She also worked in the Obama White House. She was born to Haitian parents in Fort-de-France, Martinique, before her family immigrated to New York City, where she grew up.
"Karine not only brings the experience, talent and integrity needed for this difficult job, but she will continue to lead the way in communicating about the work of the Biden-Harris Administration on behalf of the American people," Biden said in a statement.
Press Secretary Psaki appeared with Jean-Pierre on the podium after Biden's announcement during the daily press briefing and said "I'm going to cry," before motioning for her to come to the podium.
Psaki had stated earlier in the Biden administration that she only planned to stay on the job for one year. Press reports have indicated that she is headed to MSNBC.
"She comes to this job with decades of experience, even though she looks very young," Psaki said as she and Jean-Pierre hugged each other on stage.
Psaki went on to say that Jean-Pierre's appointment which makes her the first Black woman to hold the position, will "give voice to so many and allow and show what is truly possible when you work hard and dream big."
In brief remarks from the podium during the daily briefing, Jean-Pierre said it is important for young Black children to see someone like them on White House press podium, saying that it was not "not lost on me," that her appointment was historic.
"I understand how important it is for so many people out there, so many different communities," Jean-Pierre said. "That I stand on their shoulders, and I have been throughout my career."

Born and raised in Kenya's coastal city of Mombasa, Tom is the Founder, Editor-in-Chief and Publisher of Mshale which has been reporting on the news and culture of African immigrants in the United States since 1995. He has a BA in Business from Metro State University and a Public Leadership Credential from Harvard's Kennedy School of Government. He was the original host of Talking Drum, the signature current affairs show on the African Broadcasting Network (ABN-America), which was available nationwide in the United States via the Dish Network satellite service. On the show, he interviewed Nobel laureates such as 2004 Nobel Peace prize winner, Professor Wangari Maathai, the first woman from Africa to win the peace prize and heads of states. Tom has served and chaired various boards including Global Minnesota (formerly Minnesota International Center), the sixth largest World Affairs Council in the United States. He has previously served as the first Black President of the Board of Directors at Books for Africa. He also serves on the boards of New Vision Foundation and the Minnesota Multicultural Media Consortium. He has previously served two terms on the board of the United Nations Association. An avid runner, he retired from running full marathons after turning 50 and now only focuses on training for half marathons.





(1 votes, average: 5.00 out of 5)


Loading...