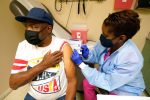 First and second COVID-19 vaccine booster doses conferred substantial protection against emergency department/urgent care (ED/UC) visits and hospitalizations caused by infections with the Omicron subvariants BA.1, BA.2, and BA.2.12.1, finds a study of adults in 10 US states published late last week in Morbidity and Mortality Weekly Report.
The Centers for Disease Control and Prevention (CDC) COVID-19 Emergency Response Team led the study of 214,487 ED/UC visits and 58,782 hospitalizations with COVID-like illness from Dec 18, 2021, to Jun 10, 2022, to compare the vaccine effectiveness (VE) of two, three, and four mRNA COVID-19 vaccine doses (Pfizer/BioNTech or Moderna) or no vaccination against Omicron subvariants in adults with healthy immune systems.
The BA.1 surge in the United States occurred from December 2021 to February 22, after which the BA.2/BA.2.12.1 surge began (BA.4 and BA.5 became dominant in June 2022). The study didn't involve genetic sequencing of the causative subvariants but rather presumed the lineage from the dominant circulating strain at the time of diagnosis.
Currently, a two-dose primary COVID-19 mRNA vaccination series and a third (booster) dose at least 5 months later is recommended for all adults with healthy immune responses. On Mar 29, 2022, a fourth dose (second booster) was authorized for those 50 and older and those 12 and older with moderately or severely compromised immune systems at least 4 months after the third dose.





(No Ratings Yet)


Loading...