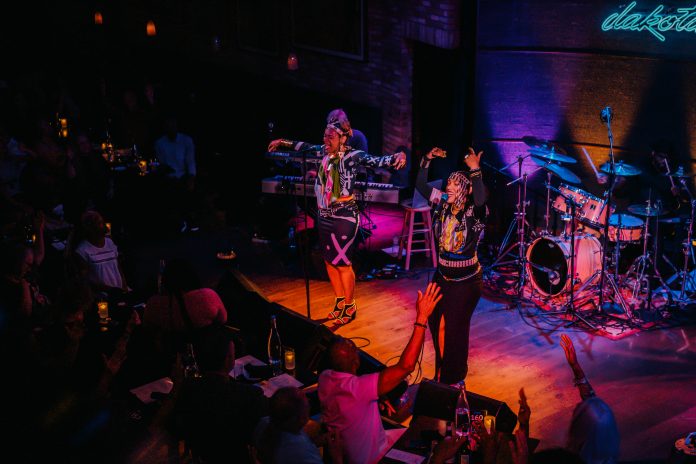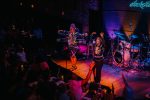 With passion and power pouring from their voices and a strong beat pulsating on stage, Les Nubians launched into Liberation, a 2020 song, to open their show at the Dakota in Minneapolis Thursday.
"Where's our power? Where's our will? To break free, to reveal all the goodness of our kind," sisters Hélène and Célia Faussart sang in their opening song. At times they chimed together in unison, at times in harmony, or with one leading and the other echoing or chanting a rhythm. The music mesmerized with their typical seamless fusion of jazz, hip-hop, funk, soul, R&B, and traditional African sounds.
The opening fit well with universal themes like freedom, liberty, love, unity, and Pan-Africanism the sister duo has been singing about since their Grammy-nominated 1998 debut album, Princesses Nubiennes. Raised by a mother from Cameroon and father from France, the sisters spent portions of their youth in Paris, Chad, and rural Bordeaux, where they experienced cultural dissonance and began raising awareness about African culture.
Their set from the 7 p.m. show also included their first hit single, Makeda; the remix Temperature Rising; the hit Africa for the Future, and other songs from past albums One Step Forward (2003), and Nü Revolution (2011). They sang in their native French, as well as English lyrics they've refined since living in Brooklyn. In a song or two they broke briefly into raps, echoing their early history performing spoken word and singing a cappella in France before they won a Soul Train Lady of Soul award for Best New Artist Group or Duo in 1999.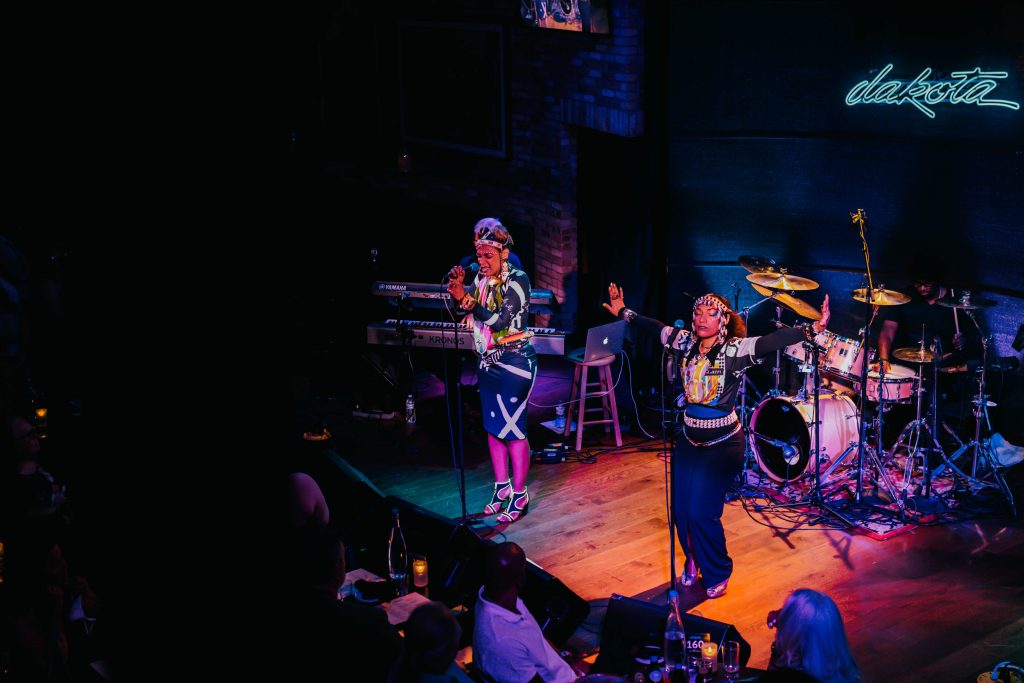 With much audience participation, the sisters joked and coaxed listeners into laughing, singing and waving their arms. To emphasize their Pan-African focus, they wore their customary head jewels and clothing designed by a North African designer.
In their final song, Nü Soul Makossa, the pair sang again about liberty and equality, particularly for people of color. The song is a tribute to the 1972 hit single, Soul Makossa, by their godfather, the late Manu Dibango, a famous jazz legend from Cameroon who died of COVID at age 86 in 2020. Cameroonian Makossa music has strong bass rhythms and melodic guitar.
Throughout the show, you could hear hints of African, jazz, and funk rhythms in solos and accompaniment of band members Ksenia Vasileva, bass player and sound designer; John Roggie, keyboard player and synthesizer master; and Steeve Belvilus, drummer.
Les Nubians played in Chicago and Washington D.C. before the Minneapolis show, with later July shows scheduled in New York City, Boston, Philadelphia and Atlanta. Later, they plan to play on the West Coast. The duo will release a new extended playlist by the end of 2022.
After the show, the sisters said their return here felt emotional, as mutual fan Prince attended their previous performances before he died in 2016.
"Our very first tour in 1999, we started in Minneapolis at the Quest, which was Prince's club," Hélène said. However, she said they still enjoy playing in a city where even during freezing temps, people brave the cold and pack their shows. "People in Minneapolis . . . wow, they love music so much."

Maureen Smith Martindale is a contributing writer at Mshale and a Minneapolis educator and journalist who has written hundreds of articles for newspapers and magazines including the Star Tribune, the Christian Science Monitor, and many others.





(3 votes, average: 4.67 out of 5)


Loading...