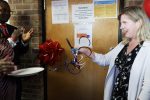 The largest coalition of Liberians in Minnesota celebrated the west African country 175th year of independence with a ceremony opening a new community center in Brooklyn Park.
The Organization of Liberians in Minnesota (OLM) revealed the newly-purchased space during a ribbon-cutting ceremony on Saturday as a part of their Independence Day festivities. Their hope is to be able to fulfill the needs of the increasing Liberian population in the Twin Cities by offering a space for their support programs, according to the organization's officials.
"This achievement shows that when people come together and are passionate for a good cause, we can do anything," said OLM Executive Director Kamaty Diahn.
Founded in 1973, OLM is a nonprofit that provides Liberian immigrants and refugees with social support services including immigration, health, housing, employment, and educational aid, per their website. With a Minnesota population of around 35,000, according to the International Institute of Minnesota, OLM is tasked with what Diahn calls "an amazing opportunity" to serve one of the largest African immigrant communities in the state. The new community center includes updated office space for OLM staff, as well as an after-school care area.
With the purchase of the building, the Liberians join Somalis and Ethiopians as the only African immigrant groups in Minnesota that have their own community centers. Nigerians and Kenyans, who complete the "Big Five" list of African immigrant groups, do not have community centers.
Congress appropriated $100,000 in 1819 for the establishment of Liberia (and resettlement of freemen and freed slaves from North America) by the American Colonization Society, led by Americans such as Francis Scott Key, George Washington's nephew Bushrod, Henry Clay, Daniel Webster, and Presidents Monroe (for whom Liberian settlers named the capital, Monrovia), Adams, and Jackson. The first group of settlers arrived in Liberia from the United States in the 1820s.
For Coleridge Doe, Liberia's Independence is significant because it reflects how far the Liberian people have come.
"We have such a rich history," Doe said. "I'm glad to see OLM investing in our community and honoring our Independence in this way."
Tarloh Quiwonkpa, a member of the Minnesota Chapter supporting Liberian presidential candidate, Taiwan Saye Gongloe, said that although she was proud of how far her country has come, she did not believe Liberia was "truly free." Quinwonkpa cites poor governance and a lack of streamlined farming practices as examples.
"We have so much land and not many factories," she said. "As an independent country we shouldn't be depending on exports of rice, our staple food."
Naser Wowoah said that it was important to recall the unique history of Liberia and its relation to the Diaspora in the United States. While those residing in Liberia were free, Liberians in the United States continued to suffer under slavery. Wowoah said that for her, Independence Day was a reminder to both celebrate and acknowledge the joy and pain of the people in the respective countries.
"Our Independence Day is different because it did not grant independence for everyone," Wowoah said. "We can celebrate and remember our brothers and sisters who were left behind."
The community raised raising $56,000 for the expansion of the center to be able to offer more services. Zubah Kpanaku, a chemistry professor at St. Paul College who hails from Lofa County, Liberia, said that an expanded community center is "just what the community needs" to continue to support Liberians in Minnesota.
"It is important that we have spaces like the community center because they show we are all united in our support for one another," Kpanaku said.
OLM is now seeking a grant from the City of Brooklyn Park to support additional programs targeting educational development of Liberian youth.
Editor's note: This story has been updated to properly reflect the founding of Liberia.
Panashe is a general assignments reporter.





(No Ratings Yet)


Loading...