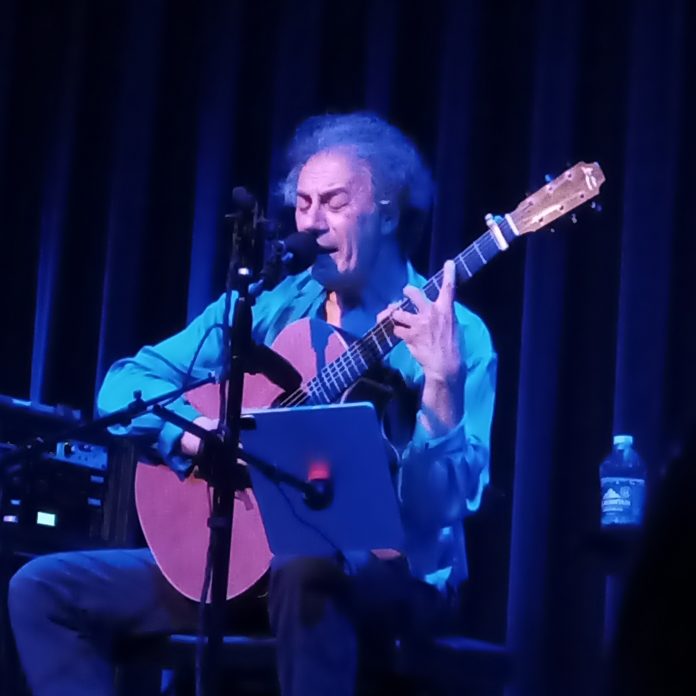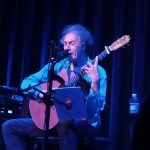 Sunday evening an audience of over 60 people were wrapped up in the warm, embracing notes of Pierre Bensusan's acoustic guitar and voice. This Algeria-French musician graced the Cedar Cultural Center's stage on September 25th, holding us in rapt attention for more than two hours.
From the first notes he played, we heard something new and unique. When Bensusan played a chord on his guitar, he strum or pluck several notes to achieve the single sound he desired, but simultaneously he'd pull out one of those notes to emphasize its tone, then release it back into the chord. It was a magical sound with the notes reverberating and piling upon one another.
His set-list included work from his earliest days as a professional musician such as Belle Je Men Vais En Allemagne, which he first performed in 1976 and yet, he told us, "It's still a work in progress."
His third number, L Alchimiste created a sensation that there was more than one instrument playing. Often, his voice lent a sound akin to Bobby McFerrin's vocal melange of scat singing and polyphonic overtones.
As if that wasn't enough to swoon over, Bensusan recited Victor Hugo's famous poem, Tomorrow at Dawn, which recounts Hugo's visit to his daughter's grave. In the audience, we are swept in the emotional poem and the music that ensues.
The show balances itself with songs full of gibberish and nonsense words, danceable and upbeat. He shared a funny recounting of a dream he had about crashing on stage, "and I'm so happy when I wake up."
While serious about his music, Pierre Bensusan was lighthearted about life. He said, "For the past two [pandemic] years, I played a lot of music at my house and my audience was my dog. When I'd make a mistake, his ears would shoot up. I called my agent and said maybe I should do a tour of dog kennels."
Dressed in a blue tunic-shirt, canvas pants, and leather boots, he assured us that human beings are his preferred audience. "Coming back here is like coming to one of my homes."
Pierre Bensusan last performed in Minneapolis in 2012. Let's hope he doesn't take another ten years to return.
Susan is based in Minneapolis and reports on general assignments for Mshale with a focus on entertainment. In addition to reporting, she is also a writer, poet, teacher and coach.





(No Ratings Yet)


Loading...