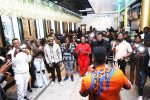 There is finally a winner in the Minnesota front of the Jollof Wars. This is unlikely to settle the conflict, but for now, it is the Liberian recipe that emerged as the winner in Saturday's battle at the Jollof Festival, the first-ever to be held in the Twin Cities.
Chefs from Ghana, Nigeria, and Liberia gathered for a fierce competition to determine who in Minnesota can create the most delicious plate of jollof rice, a west African staple. Even Kenya, to which jollof rice is foreign, made an attempt to pull an upset at the festival, which was held at the Gold Room Restaurant in downtown Minneapolis. The lighthearted competition gave locals a chance to experience the wide variations of jollof rice and to vote for their favorite.
"Jollof is significant because it's one of the only cultural expressions across the [West African] region where almost all countries who make it claim to be the best at it," said the founder of the festival, Ghanaian-born Ishmael Osekre.
Jollof Wars is a colloquial term for the online banter that started between West Africans on whose jollof is the best. Founded in 2017, the Jollof Festival is a nationwide project to celebrate the dish. The festival offers a cultural experience that allows participants to indulge in the beloved dish and vote for their country of choice. In addition to tasting and voting, the events often include a night of live performances by singers, dancers, DJs, and traditional west African ensembles.
Although the result from the Jollof Festival in Minnesota is unlikely to end the Jollof Wars for good, the state is likely to hold a sway in the debate because it has the fastest growing African immigrant population in the United States. Between 2000 and 2019, Minnesota's Black immigrant populations increased by almost 250% to about 100,000 people, according to a 2022 Pew Research Center study.
Jollof rice is a one-pot dish believed to have originated in 1300s during the Wolof Empire, also known as the Jolof Empire, which occupied part of the area covered today by countries of Senegal, the Gambia, and Mauritania. The earliest name for the dish was thieboudienne, and it was prepared with rice, fish, shellfish and vegetables. As the region is geographically ideal for crops, rice farming flourished there, and soon the dish became popular and spread beyond the Jolof Empire. Today, jollof is a staple in all countries spanning Senegal Cameroon. Modern jollof rice is often comprised of a tomato paste base and incorporates meats such as chicken, beef, or seafood. It is served most often with soups or stews.
Nigerian-born Tulo Ekisola said that attending the festival was a must for her, as she grew up on the popular dish. Ekisola, whose family moved to Minnesota at when she was 4 years old, said she was proud that her family retained their Nigerian cuisine and encouraged her to appreciate it. Though Nigerian jollof can take different forms, Ekisola's favorite method of preparation includes dried onions, beef, and peas, ingredients she says were her mother's "go-to" for her recipe.
"The Nigerian community here is strong," she said. "I think it is great that we have this opportunity to showcase our version of the dish and finally settle the beef."
Michael Alada, who is also from Nigerian, said that opportunities like the Jollof Festival were needed, especially in Minnesota. Alada said he hoped that the Jollof Festival could be a catalyst for starting more events that honor Africa's unique cultures and cuisines.
"We need more Nigerian and West African representation in Minnesota, and I think the Jollof Festival is a great way for us to be promoting that," Alada said.
Kwame Anderson, who was born in Liberia, said he had been enjoying jollof since he was a child. Over the booming speakers from the DJ, Anderson reminisced about the jollof his mother used to prepare for him and his siblings. Though he admitted bias toward his home country, he said he loved to see people in the community coming together over common culture.
"The jollof wars are an age-old battle, and I think it's great we get to settle that with some of the best recipes in the city," Anderson said.
Sama Alakija, whose parents are from Eritrea and Nigeria, remembers fondly the jollof rice his aunts from his fathers' side of the family used to prepare during family functions and during holidays. Even though he grew up on common Nigerian recipes, he said he was excited to try the variations from other countries.
"It's my comfort food, and I think it's so cool that we get to have an event surrounding it, especially since it's a cultural staple for many different countries," Alakija said.
Binta Kanteh was born and raised in Minnesota to parents from the Gambia, where she says jollof is referred to as benachin. Kanteh said that while Gambia has many variations of the dish, her favorite includes carrots and cabbage, and she enjoys it with a side of fried fish stuffed with spinach. She said that above everything, one of the most unique aspects of jollof rice is that it unites the region of West Africa.
"I just love the concept of us all getting together and using rice as a friendly competition among us," Kanteh said. "It truly is in good fun."
Panashe is a general assignments reporter.





(2 votes, average: 5.00 out of 5)


Loading...