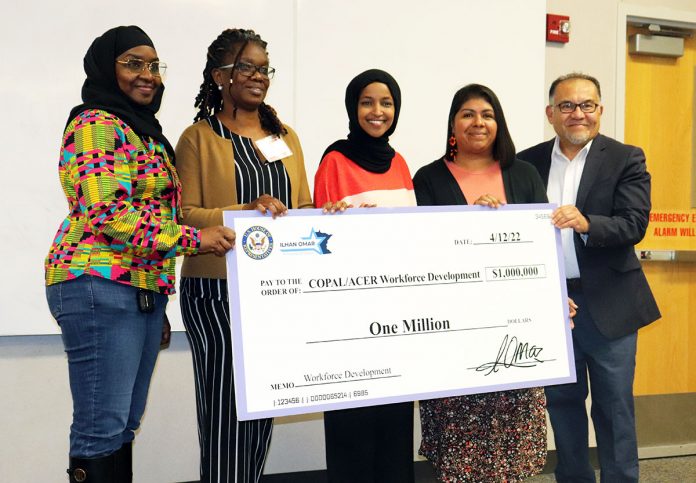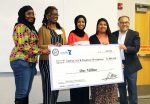 U.S. Rep. Ilhan Omar today presented a joint check of $1,000,000 to African Career Education and Resources (ACER) and Comunidades Organizando el Poder y la Accion Latina (COPAL) at a ceremony held at the Brookdale Library in Brooklyn Center.
The funding is part of a $17M congressional appropriation that Rep. Omar secured for ten projects in her Fifth Congressional District back in March. The $1M that the two nonprofits received will go towards joint workforce development activities the two are working on.
"As an African immigrant I always enjoy the opportunity to celebrate the entrepreneurial spirit that exists in our community," Omar said. "There is no better way to celebrate the diversity in our community than showcasing the economic vibrancy that exists."
ACER is a Brooklyn Park based nonprofit that works on connecting people of color, especially Black immigrants and refugees, to resources such as affordable housing, employment opportunities and education. COPAL, which is based in Minneapolis, is a community engagement non-profit that works to improve the lives of Latinos in Minnesota.
All of Minneapolis and Brooklyn Center are in the Fifth Congressional District.
ACER executive director Nelima Sitati Munene and COPAL officials joined Rep. Omar for the ceremonial presentation, all describing the funding as essential in supporting the work that they do.
"If there is anything we learnt about the pandemic is that our communities are innovative and that the solutions lie within us. We are thankful to the Fifth Congressional District for being a part of the investment in our community," said Sitati Munene.
Sitati Munene also pointed to the latest study published by the Minnesota Department of Employment and Economic Development (DEED), which found the state is home to around 400,000 residents who identify as Black or African American, 125,000 of whom were born in Africa. An alarming statistic in that DEED study found nearly 50% of Black residents live in households with an income below $50,000.
The DEED study was a source of much of the discussion at a recent African professionals conference.
"There is definitely work to be done," said Sitati Munene.
Brooklyn Center Mayor Mike Elliott, in an interview with Mshale at the check presentation, described the funding as "incredibly important" in aiding the work of the two organizations that are active in his city.
"This kind of funding is very important in helping them (ACER and COPAL) accelerate their activities as far as workforce development is concerned. It will help cities such as ours expand our economic bases," said Elliott.

Born and raised in Kenya's coastal city of Mombasa, Tom is the Founder, Editor-in-Chief and Publisher of Mshale which has been reporting on the news and culture of African immigrants in the United States since 1995. He has a BA in Business from Metro State University and a Public Leadership Credential from Harvard's Kennedy School of Government. He was the original host of Talking Drum, the signature current affairs show on the African Broadcasting Network (ABN-America), which was available nationwide in the United States via the Dish Network satellite service. On the show, he interviewed Nobel laureates such as 2004 Nobel Peace prize winner, Professor Wangari Maathai, the first woman from Africa to win the peace prize and heads of states. Tom has served and chaired various boards including Global Minnesota (formerly Minnesota International Center), the sixth largest World Affairs Council in the United States. He has previously served as the first Black President of the Board of Directors at Books for Africa. He also serves on the boards of New Vision Foundation and the Minnesota Multicultural Media Consortium. He has previously served two terms on the board of the United Nations Association. An avid runner, he retired from running full marathons after turning 50 and now only focuses on training for half marathons.





(1 votes, average: 5.00 out of 5)


Loading...