The African Immigrant Professional Development Conference (AIPDC) returned to the Twin Cities Saturday, as professionals from the public and private sectors came together to find ways African immigrants can overcome barriers in career development.
"Navigating Change," was the theme of this year's conference, which was held at North Hennepin Community College in Brooklyn Park. It sparked a conversation about how to break common barriers that prevent African newcomers to Minnesota from achieving career and economic advancement.
"There are real hurdles that we face," said Wokie Daboh, the director of diversity and inclusion at ESPN, in her keynote speech.
As Minnesota's population demographics continue to change, so does its workforce. According to a 2020 study published by the Minnesota Department of Employment and Economic Development (DEED) Minnesota is home to around 400,000 residents who identify as Black or African American, 125,000 of whom were born in Africa. Nearly 50% of Black residents live in households with an income below $50,000. The goal of this year's AIPDC was to investigate the root cause of these disparities and formulate solutions for a brighter future for Minnesota's African immigrants.
Daboh, who calls herself a "proud Liberian Minnesotan," spoke about a culture of insularity that she had witnessed among Liberians and other African immigrant communities. Her parents worked hard to instill in her a sense of pride in her heritage, which helped her form her sense of identity. Though she appreciated the sense of community, she said there were lost opportunities to connect with others outside of the community to network and build professional relationships.
"When I entered into the working world, it was very hard to form those necessary connections," Daboh said.
Still, Daboh acknowledged the value of retaining one's culture and not losing one's identity to fit into the American professional world. A study by Stanford's Institute for Economic Policy Research found an increasing percentage of immigrants opting for "less foreign" sounding names for their children, and the effects are significant: those with foreign sounding names completed fewer years of schooling, earned less, and experienced higher rates of unemployment and job discrimination than their American-named peers. But for Daboh, the uniqueness of her name is cause for celebration.
"My mother gave me a name where I could not hide who I was and where I came from," she said.
"It's a strong part of my identity, as my name is very specific to a tribe."
On the topic of choosing between assimilation and authenticity, Daboh said that it was important to strike a balance. Stepping foot onto new soil should not undo the uniqueness of one's heritage and culture, she said.
"I've had so many Black women who look like me, who said that seeing me on a call with my headwrap inspired them to bring their authentic selves to the job, and that is so important," Daboh said.
Jerome Wesson, a Liberian immigrant and technician at Boston Scientific, said that breaking out of insular cultural circles would require many African immigrants to step out of their comfort zones. Wesson said that he often felt out of place "like a piece of mold on white bread" when navigating predominantly white spaces. Still, he said the initial discomfort is necessary in expanding one's professional network. But African immigrants must be proactive about being seen and having their voices heard because it is not enough to just be in the spaces, he said.
"We are smart," Wesson said. "Don't let people tell you that you don't belong here. And don't just get to the table; be an active participant at the table."
Thomas Tapeh, a former NFL fullback from Monrovia, Liberia, talked about lessons he had to learn as an immigrant in a major sports league. Though the pay was more than generous, Tapeh said he had to adjust and work hard to gain financial literacy. He said many immigrant professionals often do not come with the knowledge about wealth building strategies.
"As a Liberian immigrant in the NFL, I was kind of on my own, and there was no one to teach me about the value of investing," Tapeh said.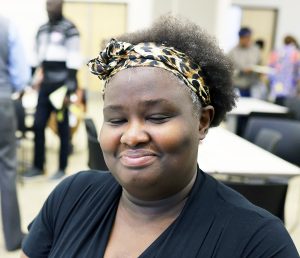 Nancy Omondi, a Kenyan immigrant and director at DEED, talked about the challenges she faced when she became unexpectedly pregnant out of wedlock in college. Overcoming that ignited a passion in her to advocate for the women and girls in the African community who may be silent about their struggles out of fear for being shamed. One of her professional goals was to continue to help people reach their fullest potential by equipping them with the resources they need, she said.
"At work I am on a team, and I have a responsibility to help others," Omondi said. "I have to ask myself every day, 'What does this person need the most to help them get to where they need to be?'"
Jeff Peal III, an information security officer at Clinician Nexus, said that the key to Black and African immigrant prosperity in Minnesota was to explore more career opportunities. Peal, who oversees information technology (IT) departments, said he observed the gap in America's high-tech industry. Additionally, Peal strives to address this gap by presenting these opportunities to Black people whenever he can.
"There's just not many that look like me in the field," Peal said. "It's been intentional on my part to encourage African and African American men and women move into IT, and there is a wealth of opportunity for us to explore."
According to Zippia, the career consulting and research firm, Black people only make up 7 % of workers in the high-tech field, even though they are 13% of the U.S. population.
Brooklyn Park resident and entrepreneur, Oluwatobi Oluwagbemi, said she was inspired to attend the conference because she is passionate about addressing issues of the African community. In her two years of running a business consulting firm, she was proud to help everyone, but said she was especially proud to see those who look like her flourish in their professions.
"I believe it is important for people who look like me to be represented at the table," Oluwagbemi said. "I want my people to be successful."
Financial coach Asneth Omare, said that she'd gotten the invitation to the conference a few times in the past and was excited about finally being able to make it. Omare was inspired when the panelists delved into the discussion of investing and financial literacy, a conversation she said was often missing in the African community.
"My work is centered around teaching people how the stock market works so that the layperson can understand it, and I think that's crucial for our community," Omare said.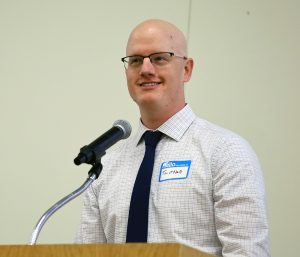 Jenkins Vangehn, a fellow at Harvard Kennedy School, said that he felt lucky to have learned a lot at the conference. He said it was important for the event to feature accomplished African figures to tell their stories and give advice. He was most moved by research shared about the extent of employment and earnings disparities when compared to other communities.
"The stats honestly shocked me," he said. "Even African immigrants who are educated and working are struggling. It should not be like that," Vangehn said
Esther Muturi, a Kenyan immigrant, said professional underdevelopment was among the most pressing disparities. She learned a lot of valuable information, which she intended to take back and share with other Africans in her circle, she said.
"I am ambitious, and I think it's important to spread this information within the community so that we can grow," Muturi said.
Veronica Lewis-Barr, a Liberian community member, said she had known of the conference since Covid, but was most motivated to attend now that it was in-person. Events like the AIPDC could give African immigrants the networks and resources needed to compete in a fierce job market, she said.
"We need to have these dialogues to help each other, because when we do that, everybody in the community benefits," Barr said.
Panashe is a general assignments reporter.





(1 votes, average: 5.00 out of 5)


Loading...