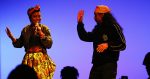 AfroBeats Dance Party started at 8 pm Saturday night at the Cedar Cultural Center, but no one was on the floor dancing. House manager, Kendall, did not look alarmed. Nor should he have been. He knew the pre-sale tickets were strong and people were buying tickets at the door as well.
When DJ Salif Keita started spinning, a couple started grooving. After several minutes, though, they stopped. Keita did not. He persevered for ten more minutes to an empty floor until he played a song released in 1971 by Bill Withers, Ain't No Sunshine. But this version, tricked out with beats that made the room pop like a bottle of champagne brought everybody to the dance floor.
New dancers poured in the door until, Kendall estimated, 185 attendees enjoyed the show. The dance skills ranged from those who stepped side-to-side and snapped their fingers, to soukous dancers rolling their hips, to full-on breaking making it easy to see why it's become an Olympic sport.
Abstract geometric shapes bloomed on the screen behind the DJs and musicians. A disco-ball glittered overhead. Chai was served along with harder beverages from the bar. Host Fanaka Nation weaved around on stage and off like a darter fish, his infectious smile and ready dance moves stir the disparate clusters of people into a unified dancing community.
Young men in checkered flannel shirts looking as if they drove a tractor to the Cedar were dancing alongside women with stiletto heels and leather mini-skits next to children who weren't old enough to ride the roller coaster at Valleyfair. All were grooving as one to the music both on vinyl and produced live.
The crowd slowed down to listen when Nigerian-American Carolyne Naomi took the stage. She performed four songs including two from her recently released EP Miss Naomi. Somehow, she managed to find a woman from Switzerland to announce in French her last song, Avec Moi.
All eyes fixed on Fanaka Nation as he flipped off the stage into the crowd and initiated a dance circle. Over a dozen dancers took turns solo-ing including one of the children. Eventually, the circle filled in with dancers until everyone was again dancing.
Neither of the two slated DJs could make the show, but the last-minute substitution wasn't noticeable because the two DJs that filled in were completely up to the task. King Swank, artist, DJ, and dancer from Uganda, spun numbers that appealed to every ear.
In the last quarter of the show, Fanaka Nation offered some direction to King Swank when he called out, "Let's take it around the world. We'll start in West Africa…let's go!" King Swank complied and continued to play songs from South Africa to Nairobi Kenya to Lagos Nigeria. The crowd dispersed with flushed cheeks and bright eyes.
Susan is based in Minneapolis and reports on general assignments for Mshale with a focus on entertainment. In addition to reporting, she is also a writer, poet, teacher and coach.





(1 votes, average: 5.00 out of 5)


Loading...