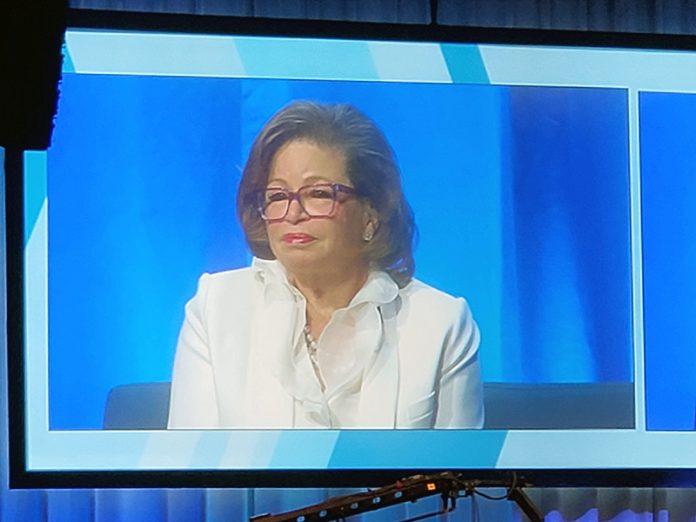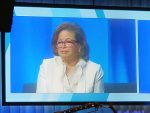 Valerie Jarrett, who served as a senior adviser to former President Barack Obama, said that in addition to celebrating Dr. Martin Luther King, Jr. Day, the United States should strive to advance the legacy of the civil rights icon.
"The world is watching," said Jarrett, who is currently the Chief Executive of the Barack Obama Foundation. "'When you say, 'Keep moving on,' you recognize the shoulders on which we all stand. You run with the baton for as long as you can and then turn it to someone else."
Jarrett was the keynote speaker on Monday at the Minneapolis Convention Center during this year's MLK Breakfast, an event organized by United Negro College Fund (UNCF) and General Mills, the Minnesota-based international processed consumer foods company, which has been hosting the breakfast for 33 years. She said that a recent series of events in the United States and around the world made Dr. King's message even more relevant.
"I think many of us see what is happening in Washington and around the world and right here in Minneapolis, and we are left with a feeling of hopelessness," Jarret said.
The annual breakfast is one way Minneapolis has carried the torch of King's legacy by bringing civil rights issues to the forefront. MLK Day is celebrated on the third Monday in January each year, and honors the civil rights hero's birthday.
Born on January 15, 1929, King became best known for his dedication to nonviolent resistance to racial injustice in the United States. In 1955, he organized the Montgomery Bus Boycott to protest segregation in the Alabaman city's transit agency. In 1963 he co-led the March on Washington protest that saw more than 250,000 people from all over the United States to travel to Washington D.C., to hear him deliver his "I Have a Dream" speech the Lincoln Memorial. King efforts led to the passing of the Civil Rights Act of 1964, which outlawed segregation and racial discrimination in public and private spaces. King was assassinated in 1968, and eventually got a federal holiday to honor his selfless dedication to civil rights.
However, the day didn't come without a fight. On April 8, 1968, Rep. John Conyers, a congressman from Michigan who also cofounded the Congressional Black Caucus, proposed a bill to make MLK Day a federal holiday. Despite a petition for the bill garnering over 300,000 signatures and a stamp of approval from then President Jimmy Carter, it failed to pass the House when it initially came to a vote in 1979. But public support for the holiday continued to grow, aided by Stevie Wonder's song, "Happy Birthday," which he released in 1980 to honor King. Working together with King's wife Coretta Scott King and the Congressional Black Caucus, Wonder collected six million signatures in favor of the holiday. When the bill reached the house floor again in 1983, it passed easily with a vote of 338 to 90, and President Ronald Reagan officially signed it into law.
Jarrett, who is of African American ancestry, shared the story of her upbringing that helped shape her perspective on race relations today. Unable to secure jobs in the United States, Jarrett's parents left country for Shiraz, Iran, where she was born in 1956. She attended multicultural schools where children spoke a variety of languages on the playground, including French, English, and Farsi, Iran's national language. Jarrett said growing up in a multilingual melting pot helped her see how possible it was for people to get along, no matter where they came from.
"My experiences abroad have taught me that while the United States is a great country, it isn't the only country on Earth," Jarrett said. "We can learn a great deal if we are willing to be curious and look outside of our own shores."
Jarrett also said that the solution to a more just world could be as simple as having a more altruistic outlook. She emphasized the importance of putting others first and being community oriented. She said that making progress starts with making the choice to care about others.
"Make a career of humanity," she said. "If humanity is your true north and guiding principle, you can help put an end to this world's toxicity."
Sean Walker, president of General Mills Group International, emphasized the importance of moving within one's capabilities. He said that no movement in the fight for justice was too small.
"All that matters is that you cover the distance," Walker said. "Decency, fairness, justice, respect, and dignity are attributes of the type of society that we all aspire to be a part of. The only way we get there is if we choose to participate along the way to making some progress."
Dr. Michael L. Lomax, the president and CEO of UNCF, talked about the concept of historic movements. He said that, for example, he often had heard people wonder if the murder George Floyd was a moment or the beginning of a movement. Every movement, he said, begins as a moment.
"Twenty-twenty was our Montgomery. Our Montgomery moment," Lomax said. "It is up to all of us to make it our transformational movement."
Laverne McCartney Knighton, the area development director at UNCF, said that on aspect of King's life that continued to inspire her was his commitment to peace in his pursuit of justice. In addition to being an impactful leader, she said, King demonstrated power in how he processed his circumstances.
"Dr. Martin Luther King Jr. embodied the power that choices can have," Knighton said. "Even though during his time here on Earth, he was not able to make some of the choices that he wanted to, he was able to choose how he responded to situations."
With regards to justice, Knighton reminded the audience of the long road ahead. She urged people to recall the many years that King dedicated to the struggle for liberation, despite not reaping the benefits in full himself. Perseverance, she said, is essential in getting any work done.
"The civil rights movement was not a fast process in gaining equal rights for all. In fact, it was and still is long and arduous," Knighton said. "Keep moving."

Panashe is a general assignments reporter.





(No Ratings Yet)


Loading...