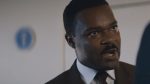 David Oyelowo, who played Martin Luther King Jr. in the acclaimed 'Selma' movie, will be in Minneapolis on Monday to deliver the keynote address at the 28th Annual MLK Holiday Breakfast on Monday, January 15. The theme for this year's breakfast which will be held at the Minneapolis Armory is "Building Bridges for a Bold Dream."
The breakfast serves as a fundraiser to raise scholarship funds for area students through the United Negro College Fund (UNCF). The organization awards scholarships to more than 10,000 annually totaling $100 million. The annual breakfast is organized jointly by General Mills and UNCF and usually sells out quickly and this year was no exception. Those without tickets can however watch a live broadcast on Twin Cities Public Television at 8 a.m. CST.
UNCF Area Director, Laverne McCartney Knighton, of the UNCF Minneapolis office told Mshale all students of color are eligible to apply for the scholarships. Knighton also called attention to the UNCF national annual Empower Me Tour which normally kicks off every year in Minneapolis each September before it travels the nation. She described it as a "free, traveling college and career readiness road show" which brings together over 1,000 students of color from around the Twin Cities to make them excited about the college and give them face time with college recruiters from the Historically Black Colleges and Universities (HBCUs). Knighton's Minneapolis area office covers Minnesota, Iowa, Nebraska, North and South Dakota and focuses primarily on fundraising as do the other 21 area UNCF offices around the country.
This year's breakfast keynote speaker, Oyelowo, is British-Nigerian. In 2016, he was appointed Officer of the Order of the British Empire (OBE) by Queen Elizabeth II for his distinguished service to drama. Michael L. Lomax, UNCF president and CEO described Oyelowo's performance in Selma as "masterful" and that he looked forward to the actor sharing his experience embodying and paying tribute to such an historic figure. Oyelowo has attributed his opportunity to play Dr. King in 'Selma' to God.
"I always knew that in order to play Dr. King, I had to have God flow through me because when you see Dr. King giving those speeches, you see that he is moving in his anointing."
Knighton said the breakfast originally started as a community celebration put together by General Mills and UNCF to celebrate the legacy of Dr. Martin Luther King, Jr. but "has evolved and now emphasizes the fundraising for the scholarships while still honoring that legacy."
This will be the breakfast's 28th year.
What: Annual MLK Holiday Breakfast
When: Monday, January 15, 2018 @ 7:00AM CST
Where: Minneapolis Armory, 500 South 6th Street, Minneapolis, MN 55415
Tickets: $50 @ www.MLKBreakfast.com
Live TV Broadcast: Twin Cities Public Television at 8 a.m. CST.
Livestream: Go here.

Born and raised in Kenya's coastal city of Mombasa, Tom is the Founder, Editor-in-Chief and Publisher of Mshale which has been reporting on the news and culture of African immigrants in the United States since 1995. He has a BA in Business from Metro State University and a Public Leadership Credential from Harvard's Kennedy School of Government. He was the original host of Talking Drum, the signature current affairs show on the African Broadcasting Network (ABN-America), which was available nationwide in the United States via the Dish Network satellite service. On the show, he interviewed Nobel laureates such as 2004 Nobel Peace prize winner, Professor Wangari Maathai, the first woman from Africa to win the peace prize and heads of states. Tom has served and chaired various boards including Global Minnesota (formerly Minnesota International Center), the sixth largest World Affairs Council in the United States. He has previously served as the first Black President of the Board of Directors at Books for Africa. He also serves on the boards of New Vision Foundation and the Minnesota Multicultural Media Consortium. He has previously served two terms on the board of the United Nations Association. An avid runner, he retired from running full marathons after turning 50 and now only focuses on training for half marathons.





(No Ratings Yet)


Loading...