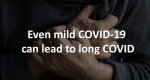 Although most people with COVID-19 will get better after a few weeks, some do not fully recover from their illness. Even a mild case of COVID-19 can lead to long-term symptoms. Long COVID is impacting thousands of Minnesotans. Some may struggle with work, school, and family life. Care and support may be available.
If you are experiencing symptoms of long COVID, medical and social support may be available to you. Explore the lists below to learn more.
If you need help finding a doctor, mental health support, or insurance coverage, visit Minnesota Department of Human Services (DHS): Health care. For help filling out applications or enrolling in coverage, search the directory of MNsure-certified Navigators.
For culturally-specific assistance with COVID-19 issues, understanding the effects of COVID-19, or finding mental health resources, search the listing of COVID-19 Community Coordinators.
The U.S. Department of Health and Human Services (HHS) has published a guide of federal programs and recommendations: HHS: Services and Supports for Longer-Term Impacts of COVID-19 (PDF).
To access Minnesota assistance programs, visit mnbenefits.mn.gov.
Medical care
Start by talking with a doctor or health care provider about your symptoms. They may have options for care not listed below.
The Centers for Disease Control and Prevention (CDC) offer resources to help you prepare for your appointment:





(No Ratings Yet)


Loading...