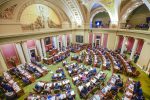 The days of students going hungry in Minnesota's K-12 schools may soon be a thing of the past.
The House voted 70-58 to pass HF5 Thursday evening, which would institute universal no-cost school meals statewide. The bill now moves to the Senate and the measure is a major priority of Gov. Tim Walz's administration, so his signature is assured if that body acts favorably as well.
"We know hunger is something that too many students bring with them to their classrooms and the current status quo is letting Minnesota schoolchildren go hungry," said Rep. Sydney Jordan (DFL-Mpls), the bill's sponsor. "One in four students experiencing food insecurity come from families that do not qualify for existing nutrition programs in our schools."
The upshot of the bill is this – one breakfast and one lunch would be guaranteed every school day for any student who wants them. Students would not be charged for these meals.
Currently, schools provide free and reduced-price breakfast and lunch to many students. However, these programs require families to be income qualified and leads to much paperwork on the part of school districts. This bill would remove those barriers by requiring qualifying schools to participate in a federal program known as the Community Eligibility Provision. This program allows for schools to provide meals to all students, regardless of family income.
Funds from the federal government reimburse most costs to school districts under CEP. Schools that don't qualify for the provision or would not receive a full reimbursement under CEP would continue to make use of other federal subsidies and then receive state aid to cover the remaining costs for feeding students. State payouts to local schools would amount to around $400 million for the upcoming biennium.
Jordan noted the federal government provided universal no-cost school meals nationwide in response to the COVID-19 pandemic through the end of the 2021-2022 school year. Minnesota would be joining several other states, including California and Massachusetts, that have decided to implement this at the state level.
Republicans took issue with the bill, arguing it would be fiscally irresponsible to spend hundreds of millions of dollars on school meals for students who can afford them.
"Why are we feeding kids in Edina or rich areas that do not need this extra funding," asked Rep. Pam Altendorf (R-Red Wing). "We are pushing tax dollars where they're not needed."
To that end, amendments offered by Rep. Peggy Bennett (R-Albert Lea) and Rep. Krista Knudsen (R-Lake Shore) would have raised the income threshold to qualify for no-cost school meals rather than providing them on a universal basis. Both were defeated on a 59-70 party line vote.






(No Ratings Yet)


Loading...