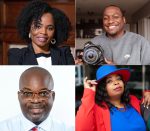 Business leaders from various communities came together Thursday to celebrate Black History Month at an event that focused on finding ways to nurture and sustain Black-owned businesses.
The event, which took place at the Minnesota African American Heritage Museum and Gallery in Minneapolis, provided space for seasoned and aspiring entrepreneurs to learn about ways they can improve and expand in their business endeavors.
"If people like you and you're putting in the work, you will succeed," said Kevin Sullivan, the owner of the eponymous filmmaking and photography company, Kevin Sullivan Films.
Black-owned small businesses were hit hardest by the coronavirus pandemic, according to a study from the National Bureau of Economic Research. But the plight of Black entrepreneurs predates COVID-19. Looking at data from 2016 to 2019, the Federal Reserve found that only a little over 2 % of businesses had Black owners, despite African Americans accounting for more than 14 % of the country's population. The conversation on Thursday aimed to connect successful Black business owners with those in the community aspiring to launch, grow, and improve their businesses.
Having the money to launch a business can be especially difficult for Black Americans, considering that their households hold just under 3% of the country's wealth, compared to nearly 87% held by white Americans, according to the Federal Reserve. For those who have navigated economic barriers and wish to proceed with their business ventures, Sullivan stressed the importance of being wise with money.
"Don't just quit your job with no money for the business," Sullivan warned. "You will fail."
On the topic of financial wisdom, Sullivan also spoke about the correlation between lifestyle and wealth building. Despite being the lowest earning by race, Black Americans are the second largest consumer group, with a staggering $1.4 trillion in spending power, according to Forbes. Sullivan said he believed the key to success in any field, and particularly business, was to maintain a modest lifestyle.
"Be a little frugal because your lifestyle is what can put you on the street," Sullivan said.
The panelists were also invited to speak on their views about entrepreneurial mentorship. While most experienced business owners enthusiastically turn to a mentor for professional advice, only around 40% of newer business owners do the same.  Teto Wilson, a small business mentor and the owner of Wilson's Image Barber and Stylists, said that mentorship "is vital."
"There is so much to learn about business," Wilson said.
Tameka Jones, who owns the cosmetic brand Lip Esteem, said she had mentored students from numerous colleges across the country. She said that as well as being a mentor herself, she was always looking for people to mentor her.
"I appreciate the people who have guided me," Jones said.
Kenya McKnight Ahad, the CEO and Founder of Black Women's Health Alliance, spoke about the importance of networking. She encouraged people to go after their goals, even in the face of social adversity.
"You'll show up and people will make you feel insufficient," Ahad said. "You gotta have that mindset of, 'I am not inferior to anybody.'"
On the topic of business expansion, panelists discussed choosing the right time to expand a business. They all seemed to agree that the right time to do so is when the required input of labor for business operation becomes "too much" for a sole owner. Often, the costs of paying employee salaries can be a burden for business owners, especially if they are new. A 2020 report from the U.S. Small Business Administration found that 81% of small businesses were "non employers," which means that the owner was the only person working for the company. Ahad said that her long-term goal was to see the Black community deviate from the business model.
"Now I sit here as a multimillionaire, and I want to develop my company into a model, something that will last beyond me," Ahad said.
Jones, the cosmetic company owner, said that while hiring employees could be expensive, it was difficult to build a business on the back of the owner alone. She said that she had always wanted to become an international brand and did not see that route in her future without the help of others.
"I've always known I want to be an international brand, when you do everything from marketing, to accounting, to branding, to networking, it's a lot," Jones said.
Sullivan spoke about the importance of the humility of accepting outside help. He said that for the six years he'd been in business, he pulled through most of the way on his own. He said he would have gotten where he is today faster, had he sought out and accepted help earlier on.
"Everyone has this 'got it out the mud' mentality," Sullivan said. "The help from community, your surroundings, your friends, and your family will get you further, faster."
Panashe is a general assignments reporter.





(No Ratings Yet)


Loading...