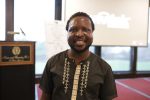 Books for Africa (BFA), the world's largest shipper of donated books to Africa held its annual spring luncheon on Friday to celebrate 35 years of fighting illiteracy in the continent. The event, which was themed "Reading for All," was held at The Town and Country Club in St Paul and was attended by various dignitaries, including Gov. Tim Walz of Minnesota.
"Books for Africa represents the philanthropic values of our state, and the power of the [African] diaspora here in Minnesota," Walz said.
The World Population Review reports that 9 out of 10 least literate countries in the world are in the African continent. Only 67% of people in Sub-Saharan Africa can read and write, according to the World Bank. But the number is a significant improvement from the 49% recorded in 1985, thanks to organizations like BFA, which as has shipped more than 57 million books to every country in Africa since its founding in 1988.
BFA founder Tom Warth remembered the organization's early days. He got the idea when he visited a library in Uganda that had nearly empty shelves. So far this year, BFA has sent 3.3 million books to Africa. By comparison, it sent 3.2 million books for the entire 2022, and is not on course to surpass its goal of shipping 4 million books by the end of 2023. In recent years, BFA has begun shipping computers and electronic devices to provide access to eBooks.
"Every child should have a book," Warth said. "My ambition is for every child in Africa to have a book."
Malawian inventor, William Kamkwamba, was the keynote speaker of the event. He spoke about how his humble beginnings inspired his journey as an inventor and education advocate. After dropping out of high school because his family could not afford to pay for his education, Kamkwamba 14-year-old Kamkwamba used to sneak into his school's library to read book. Using the books, he taught himself and build a windmill that used bicycle parts to generate electricity, which his farming community used to pump water from a well to grow food crops during a severe drought. Kamkwamba's remarkable story was documented in his book, "The Boy Who Harnessed the Wind," which was adopted into a film by the same name in 2019.
Kamkwamba said that Africa is full of talented young people whose potential could be unleashed by giving them the tools they need to excel.
"There are so many talented kids, but if we don't give them the opportunities to read, their dreams and desires will die before they can see the light of day," Kamkwamba said.
At the conclusion of the event, Peris Outa, a nonprofit coordinator and BFA volunteer, joined others as they raced to the line to be photographed with Kamkwamba. Outa spoke about her passion for the mission of BFA.
"I started volunteering [at Books for Africa] in my college days," Outa said. "It was such a good experience, and I'm glad to still be supporting years later."
Rosemond Sarpong Owens, a Ghanaian-born author whose company Lion's Historian publishes Afrocentric children's books, said she understood the value of books firsthand. While she recognized the transformative impact of the organization, she said that she would like to see more involvement from local Africans.
"I see Books for Africa becoming very innovative in the future, but we need diasporans to be even more involved first," Owens said.
Kimberly Sannes, a local business owner, beamed as she made small talk with other attendees. She said the first time she heard about BFA was when a friend invited her to the Friday even event. She said that she was most impressed by BFA's wide reach.
"We need this now more than ever," Sannes said.
Panashe is a general assignments reporter.





(No Ratings Yet)


Loading...