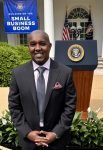 Restaurant owner Abdirahman Kahin, after being named Minnesota's Small Business Person of the Year last month, told Mshale in an interview "I am looking forward to competing at the national level and win it all." He did exactly that today after SBA Administrator Isabella Casillas Guzman, announced him as the national winner at the annual National Small Business Week which started yesterday and will conclude on May 6.
Mr. Kahin and winners from each state were in Washington, D.C. for the awards ceremony as well as an address by President Biden today.
"Abdirahman has pursued the American dream of business ownership — overcoming challenges, launching multiple food businesses, pivoting during COVID, and lifting local neighborhoods along the way.  He combines great ideas with hard work and diligence, and we are honored that SBA has been a part of his successful and ongoing journey," said Administrator Guzman.
Ms. Guzman went on to say that Mr. Kahin "reflects the best of American entrepreneurship."
Mr. Kahin who immigrated to the United States as a student in 1996 first ventured into the media production business after attending community college, before turning to the restaurant business.
He opened the first Afro Deli and Grill location in Minneapolis in 2010 and has since expanded to four locations in both Minneapolis and St. Paul. He has his eyes on a nationwide expansion that will make it the first national African restaurant chain in the United States.
His win places him in elite company. Previous winners of the prestigious award which "recognizes entrepreneurs who demonstrate exceptional leadership and create sustainable, thriving businesses in their communities" have included Hamdi Ulukaya, the founder of Chobani yogurt as well as Ben Cohen and Jerry Greenfield, the founders of the famous Ben & Jerry's ice cream.

Born and raised in Kenya's coastal city of Mombasa, Tom is the Founder, Editor-in-Chief and Publisher of Mshale which has been reporting on the news and culture of African immigrants in the United States since 1995. He has a BA in Business from Metro State University and a Public Leadership Credential from Harvard's Kennedy School of Government. He was the original host of Talking Drum, the signature current affairs show on the African Broadcasting Network (ABN-America), which was available nationwide in the United States via the Dish Network satellite service. On the show, he interviewed Nobel laureates such as 2004 Nobel Peace prize winner, Professor Wangari Maathai, the first woman from Africa to win the peace prize and heads of states. Tom has served and chaired various boards including Global Minnesota (formerly Minnesota International Center), the sixth largest World Affairs Council in the United States. He has previously served as the first Black President of the Board of Directors at Books for Africa. He also serves on the boards of New Vision Foundation and the Minnesota Multicultural Media Consortium. He has previously served two terms on the board of the United Nations Association. An avid runner, he retired from running full marathons after turning 50 and now only focuses on training for half marathons.





(1 votes, average: 5.00 out of 5)


Loading...